The modern world is full of stress, triggers and emotional aspects that are difficult to overcome at times.
We do not part with the thing that is our assistant in overcoming these triggers and self-control every day, which we do not even recognize. Phones, tablets, computers and other gadgets can set our mood, restore emotional balance and teach us to listen to ourselves and our bodies.
You don't have to limit yourself to simple pedometers and calorie counters – the world of mobile apps is so diverse that we can find a solution to our psychological problems by simply typing the correct requests into mobile app markets. And what should be these requests we will discuss in the following article.
AIMS for Anger Management
What is one of the most important aspects of anger treatment? Obviously, this is support, and this application will help you find it.
AIMS (Anger and Irritability Management Skills) was developed to help people suffering from anger and wanting to cope with it.
The application has a system of support in any of your condition and the purpose of the exercises to cope with it. From relaxing music exercises to breathing exercises.
The App contains everything you need to deal with this condition. Even the most ordinary users can create anger management plans and methods that can help them based on their preferences.
Based on feedback, the app has helped many people who are struggling with anger and people who are trying to help others in anger management.
back to menu ↑
Breathe2Relax
Breathing is one of the most important actions of your life, and you probably don't even know how to do it right. You have most likely heard that in order to calm down you need to slow down your breathing and start breathing calmly. But do you keep it in your head at all times?
This application is designed to focus on learning simple breathing exercises that will help you to calm down and take a deep breath at the right time.
A pleasant female voice helps to relax and focus on the exercises while you look at a number of beautiful landscapes, and calm music helps you to breathe peacefully.
The app is very easy to use and has a load of customization options such as the narrator's voice loudness, visualized timers and music tracks on the background.
Breathe2Relax is very useful in stressful times and helps to control your anger and anxiety.
back to menu ↑
Calm
Calm is, obviously by its name, an app for calming down after times of stress and anger. The application has many options to choose from depending on what you want to get from the application.
It provides a wide range of meditation programs depending on what you want and times you can spend on meditation. The programs are different according to your preferences, for example: to manage anxiety, to improve concentration, to learn to meditate, to reduce stress, etc.
Calm also allows you to manage your sleep time. The many sleeping stories included in it, which will help you fall asleep relaxed and happy.
The Calm interface is intuitive and very clear, so you can get started right away without wasting hours on the instruction manual. And in case you want the best apps for yourself, Calm is an Apple award-winning application.
back to menu ↑
Pacifica
How often you consider yourself as a person who needs a personal therapist at your hand? Therapist session can be too expensive and afterward have no effect on you. It would be amazing to have a free trial on therapy but there is a belief that no free therapists exist, and that's why…
You need this application. Pacifica app can be classified as your personal portable therapist. It has great tools at giving you what even some specialists can't offer.
Pacifica has the means to provide cognitive-behavioral therapy, daily rate what you want to track (e.g. happiness, sleep time, etc.) even chatting with its users. Chat is represented as different communities that you can join and talk freely with people in it.
The app has visualizations such as breathing sessions or public speech. Narrator's voice is asking you questions and helps you to answer them.
Pacifica is truly an amazing app that provides huge support for people who want to take care of their mental health and even therapists sessions sometimes offer less than Pacifica's free version.
back to menu ↑
What's up
What's up helps you to cope with your mental health problems such a depression, anxiety, anger. It uses the best of Cognitive Behavioural Therapy and Acceptance Commitment Therapy to help you!
The app includes a habit tracking program that allows you to monitor the progression of habits you are working on, whether they are useful and beneficial, or harmful and unhealthy.
There is also a chat forum where you can freely post everything you feel, ask for advice or talk to others. However, the application does not include private chats, you can talk to the person only by replying to the person's messages, which are open to everyone.
What's up has a very clean and delightful interface, which is also customizable. You can choose from over 20 themes, depending on what you consider to be the most comfortable.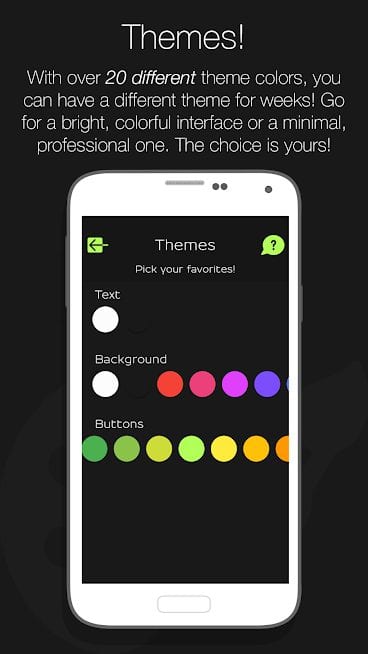 The list of features is huge, you can try them all yourself by downloading the application from the Google Play or iTunes store because the application is absolutely free.
back to menu ↑
Headspace
If you ever wanted to learn how to meditate right this is the app you need. Headspace is a professional teacher of breathing and meditation. It will show you what meditation is, why you need it in your life and, most importantly, how to do it right.
The app offers you a 10-day introductory meditation course, after which you will understand how to do it and how important it is in your life. After a 10-day course, meditation will be like a game for you and the app will track how many times you meditate and how long you meditate.
However, the app has a paid monthly subscription that may discourage you from continuing to use the app after a 10-day introductory course, but even these 10 days you can enjoy a meditation course and decide for yourself whether you are ready to continue this lifestyle with meditation.
back to menu ↑
Self-Help for Anxiety Management (SAM)
Have you ever wanted a friend who will understand you in any mood and try to help you get to the root of the problem? Nice to meet you, this is SAM.
The SAM app provides excellent functionality for coping with anxiety, stress, anger and other mental health problems. It focuses on getting to the roots of your mental health problems. SAM provides tools to recognize triggers and monitor their triggering.
Once these triggers are understood, SAM gives you the opportunity to determine why these triggers do this, what thoughts cause these triggers to be activated.
After all, SAM has a daily exercise and forum which is completely anonymous, where you can discuss with other users and share your stories.
back to menu ↑
Rootd
Rootd is a simple game oriented tool for dealing with (mostly) anxiety problems. This little monsterous friend in your pocket will help you any time you struggle from a panic attack or anger. The app has an offline functionality because panic attacks do not rely on wi-fi and can strike you anywhere you go.
Little guy Ron, that's the Name of your new monster friend, can help you to understand the roots of your problems and offer you his help with breathing and meditation exercises. The app has many different tools for managing mental health management such as visualization, lessons and so on.
Rootd has a very user-friendly interface, so you won't have any problems with it, allowing you to start using the application right away.
back to menu ↑
Moodpath
Moodpath is a good universal application for monitoring your mental wellbeing. The experts recommend that you use the app to make full use of your daily free time to work on the treatment of mental health symptoms.
The App provides audio and visual exercises based on cognitive behavioral therapies to work independently when you are not with your therapist.
MoodPath Journal, one of the features of this application, allows you to record your symptoms in it. After 14 days of this program, you will receive appropriate recommendations for treatment.
The most important feature of MoodPath is in connection with your therapist all along the way. The app can be connected via the therapist's service called Aurora, so he/she can get all the information about your mental health, treatment progress and so on.
MoodPath, also, has a connection to therapy service "BetterHelp" to ensure you get the best help from both of these services.
back to menu ↑
BetterHelp
If you don't have the opportunity or don't want to visit a therapist, but you really need it, then there is a real alternative. BetterHelp is an e-consultation service with real professionals to provide you with the best diagnosis and proper mental health care.
After a few questions, you will be matched with your counselor and you will start a session with him or her. The sessions take place in the "consulting room", which is similar to a video session on Skype.
Therapists will work with you and tell you about your diagnosis after a while. The program includes a variety of homework and exercises that they strongly recommend you do.
Many people who couldn't come to the therapist's appointment, went through the course of this application and were able to go and try real sessions of therapy on their own.
back to menu ↑
7 Cups
7 Cups provides its users with good e-consultation service and many other features to help you cope with anger, anxiety, depression, stress and so on. It also provides a variety of exercises and tools for daily maintenance of mental wellbeing and assistance in all situations.
The application focuses on conversations with the "listener", who becomes your therapist depending on the problem you have chosen at the beginning of using the application. After the initial test, you will be matched with the listeners, who will be ranked according to their assessments, such as professionalism, response time.
7 Cups is an anonymous service, so you don't have to worry about these nuances. The community forum is free to communicate with people with the same problems or on any other topic you wish.
back to menu ↑
Mind Shift
Mind Shift concentrates on minimizing anxiety and relieving stress with a variety of tools and approaches used in cognitive behavioral therapy.
The app includes a number of features to help people cope with anxiety, such as the "Active Steps" category in the app, which focuses on progress in coping with anxiety, helping to prevent it from occurring at the very first symptoms.
"Chill Out Tools" offers meditation and breathing exercises to reduce the impact of mental health problems on you and shift your attention away from them.
Mind Shift provides tools for you to describe your triggers when you are facing anxiety and offers materials on how to prevent them according to the triggers you have. It also includes various tests to identify triggers and questions with answers after the test on how to avoid triggers.
Mind Shift has a simple and intuitive interface with a very good color gamut that contributes even better to your peace of mind.
back to menu ↑
End Anxiety Hypnosis
Have you ever tried to do exercise under hypnosis? Do you want to try and see how it goes? Check out End Anxiety Hypnosis app.
The application has many features similar to other anxiety help applications, but it has one feature that makes it different from others.
It is called Hypnosis booster. But what is a hypnosis booster, would you say? This feature adds a hypnotherapist's voice to your exercise, which will get deep into your mind and make your brain stay in a stable state, which is the best for meditation and relaxation.
In addition to hypnosis booster and tools for exercises and relaxation, it has a very useful function for sleeping called "Awaken End feature". If you want to get the best sleep in the morning and you don't need to get up early in the morning, it's better to turn it off or it will wake you up in a second.
The app integrates perfectly into your daily life and never distracts you from your work, family or any other important activity.
back to menu ↑
Relax: Stress and Anxiety Relief
Relax is, obviously by name, an application for relaxation and relieving stress and anxiety that occur in your life.
This application will show you how to properly breathe slowly, and it is not as easy as it seems. The application has a timer that will allow you to focus not on counting, but on achieving full concentration and good breathing.
Relax has a variety of musical tones that will perfectly integrate with its meditation and breathing exercises that are different in time depending on the body parts (sessions differ from 5 to 12 minutes).
Relax can be harmoniously integrated into your daily life and help you to achieve peace of mind and move away from problems. The application has a nice-looking interface with a quick guide to its use, so you won't have any problems with it.
back to menu ↑
Personal Zen
Personal Zen is a simple game in which there is nothing special at first glance. The developers promised that by playing this game several times a week, you will be able to significantly reduce anxiety, anger, and stress.
Many professors and psychologists took part in the development of the game and tested it many times and the results were very positive.
The gameplay looks like this: You're shown a green grass field. For a short time, there are two faces, one happy and one angry, and then they bury themselves in the grass. The tall grass line grows from the place where the happy face has dug a hole; your task is to draw this line quickly with your finger.
The goal is to teach the brain to focus on non-threatening impulses, in this case, a happy face, but here you have only a second before both faces disappear. That is, you have to be very lucky to find a happy face.
In our lives, we focus more on negative things and the basic game teaches us to look at the world differently, thereby reducing stress and anxiety.
back to menu ↑
SuperBetter
In today's world, we face many challenges that are difficult to overcome, such as bad habits, mental health problems, overcoming one's own barriers, etc. There is a special application for overcoming such difficulties, it's called SuperBetter.
SuperBetter is a competition-oriented game that focuses on dealing with one's own problems by making them a kind of competitive challenge. Сhallenges vary into 3 different categories: "quests", "power-ups" and "bad guys".
"Quests" stands for achieving something in the app. "Power-ups" are different forms of physical activities. "Bad guys" represent any kind of bad habits that players have to get rid off. Once a player has done any of the challenges they have to check the box near that challenge to tell the app that this challenge is done.
Players get scores for each challenge they have done or invited an "ally". "Allies" are other players, so it is a sort of recruiting program.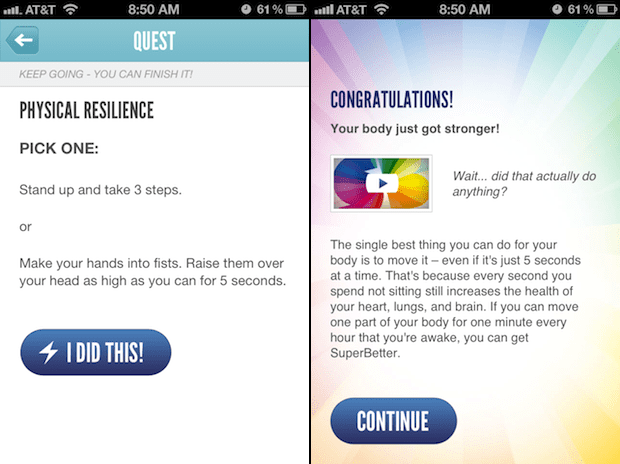 However challenges are not-linear, so players can play however they want, on one hand, it is a good method, but on the other hand, it doesn't focus on the teaching about how to do them, for example, how to deal with certain "bad guys".
back to menu ↑
Inner Balance
Inner Balance focuses on monitoring your wellbeing, by sensoring your heart and mind. However, it requires the BlueTooth HeartMath HRV sensor to work. The app has proven that it has the highest accuracy working with HeartMath Sensor on the market.
If you want to reach the nirvana with your meditation exercises but do not realize how good you understood the articles about meditation this is the app for you. By HRV sensor you will get the results of your work in the graphics and different ranking bars.
If you're just starting to meditate and have a HearthMath HRV sensor available, you should try it out and tell the world about your results.