Have you always wanted a cute pet but never been able to have one? To tell the truth, sometimes it's really difficult to have a real pet. Maybe your apartment complex has strict rules or your loved ones are allergic.
Lucky for you, there are other alternatives like animal breeding apps.
These games give you the opportunity to enjoy your second life in the virtual world where you will experience how to raise a pet. You can combine and raise the animals, take care of them by bathing, feeding, and care while playing different mini-games.
Moreover, you can not only have a dog or a cat, but you can also raise a dragon! Yes, just like in the Game of Thrones!
So here's the list of 9 best animal breeding apps for Android and iOS users.
DogHotel
DogHotel is an app that invites you to create and manage a brand-new dog resort, put your dog sitting skills to the test and learn how to run a successful doggy hotel business.
This allows you to look after all the dogs placed in your care. The app includes many dog breeds and all of them has different size, hairstyle, and characters.
All of them have different personalities, needs, and problems.
Some of them need to lose weight, others have to learn some interesting tricks. And your job is to make sure all the dogs have a great time in your hotel and that their owners will bring them home in a good mood.
You will need to pet the dogs, walk with them, keep their cages clean and feed them with the highest quality nutritious and tasty dog food when they get hungry. Moreover, you can do fitness with them on the obstacle course.
DogHotel also enables you to care for up to eight dogs and be a master of a dog grooming.
So download this app now and enjoy your time with lovely dogs.
Price: free
You can also check: 15 Free apps for pet lovers (Android & iOS)
back to menu ↑
My Horse
It's expensive to buy and maintain a real horse, but now you can download a virtual one on your smartphone.
My Horse is a realistic horse simulation game, which allows you to groom, feed and reward your own horse, without ever leaving the couch.
This app was created as a game where a horse is realistic enough for the player to form a bond with. And there's no doubt that the horse graphics and its behavior are pretty realistic. The horse flicks its tail, grazes, looks around, trots, bucks, walks backward and neighs. So you will have a feeling of caring about a real-looking horse that has no obvious repeated animation loops or cartoon graphics.
My Horse allows you to care for your horse by grooming, feeding, treating it and build a bond together. You can also compete in a series of challenging competitions after training.
Try this app now and live the dream of owning and looking after a realistic horse.
Price: free
back to menu ↑
Zen Koi
Zen Koi is a fun, relaxing and stylish mobile game experience that allows you to grow, breed and collect beautiful Japanese carp as they make their way to mythological dragon form.
The app has a calming game-play and a meditative soundtrack by System Sovereign and SFX by IMBA, so you can run from reality after a hard day at work.
You can level your Koi by chasing and consuming different animated little fishes.
Moreover, Zen Koi allows you to find other Koi and breed to create rare patterned offspring. You will progress along a mythological path of expansion, guiding your Koi toward its final ascension into dragon form.
The game begins with one Koi in the middle of a small pond with other little creatures around to eat. As long as you eat enough of a specific kind you get a gem that will expand your pond.
You will be surprised how after only a few plays you will genuinely found yourself thinking like a fish, looking for some new meal, even excited at the first sight of another fish like yourself arriving on the scene.
Price: free
back to menu ↑
Dog Sim
Have you ever wanted to live the life of a dog, battle with enemies as you raise a family and conquer the world?
Dog Sim gives you the opportunity to be a dog in this online RPG adventure where you can choose from your favorite dog breeds, hunt and walk across a massive 3D world.
The app includes six locations, each with its own atmosphere. There is also a simulation of real weather and a real in-game cycle of day and night on a 24 hour based time system.
Little puppies are also playable and customizable, so you can develop generations of dogs. The app also allows you to join online players to explore, fight and level up in a large world. You can unlock all dog breeds and become the most powerful dog.
One of the best features of this app is an online multiplayer mode
that enables you to meet your friends online to explore the big world and fight in duels where you can prove your strength.
Dog Sim has in-depth customization so you can feel what it's like to be a dog.
Try it now – you won't be disappointed.
Price: free
back to menu ↑
Cat Sim
Cat Sim is an app that allows you to explore the big world for yourself as one of the many popular cat breeds. It is basically a cat version of DogSim game.
Using this app you can play with friends in online multiplayer mode and form clans to battle enemies to keep your family safe. You can also unlock new cat breeds with coins earned by leveling up as you explore the world.
The app enables you to customize each cat by name, gender, fur color, clothes and more.
You can also have battled against dangerous enemies in simulator games and unlock fighting achievements when you take down specific enemies. Moreover, there's an option to battle other online players in the Clan Wars.
Cat Sim allows you to explore the world from the city to the countryside and experience simulated weather conditions.
Download it today and start playing as your favorite cat breeds.
Price: free
back to menu ↑
Bird Land Paradise
Bird Land Paradise is a magical and exotic breeding game where you can raise and breed colorful and alluring birds.
Using this app you can get on board of Birdland Paradise and improve your day with various and colorful species of parrots.
In this app, you can find the cutest budgies, awesome cockatiels, electric eclectus as well as many other birds that will surely help you to improve your day.
Bird Land Paradise enables you to breed magical new birds by spinning the breeding wheel and getting new, unique birds with different new colors unlike anybody else's.
You can also decorate your aviaries with various decoration and themes so your birds will feel like home.
Moreover, you can connect with your friends and take care of your birds and aviaries together and leave each other gifts.
Bird Land Paradise is easy-to-play and has a beautiful design. makes Everything in the app is simple, well explained and accessible for everybody.
Price: free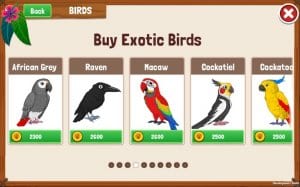 back to menu ↑
Fantasy Forest Story
Fantasy Forest Story is an app that allows you to discover a world of magical creatures. Using this app you can breed new animals and hatch adorable babies like the legendary crystal unicorn!
You will experience each animal's cute, unique animations while walking, feeding, flying and battling!
The game is similar to Pokemon in that you get adorable animal-esque creatures and level them up to the battle. There is a battleground where you can win rare animals there are also pop-up tournaments about every two weeks when you can win exclusive animals. And If you miss them you might pay up to buy them.
The animals also live in habitats and you can breed them to collect most of the 92 animals that are currently in the game.
You can feed them with food from your farm to raise them up in level which will help them battle.
Fantasy Forest Story also has seasonal events like Valentine's Day and St. Patrick's Day when you can unlock limited animals and habitats.
This is one of those nice time-killing games when you're stuck in a long line, but it won't take over your life.
Price: free
back to menu ↑
Dragon Mania Legends
Dragon Mania Legends is an app for anyone who wants their own pet dragon. But who wouldn't want a dragon?
Playing this game you rebuild the kingdom of Dragolandia where you breed dragons and fight off neighboring Vikings and their dragons.
Dragon Mania Legends includes over one hundred species of dragons to discover and plenty of side missions to tackle.
The game has farms where you grow and harvest to feed your dragons, dragon habitats to raise and house your dragons and temples to help train your dragons.
All the goods for your dragon will cost you some gold that can be earned through combat or generated by your dragon stock. Some items and tasks will require gems that are also earned in battle and accomplishing various tasks.
You also need to make sure your farms are maintained to keep a strong supply of food on hand to help your dragons level up. All the structures can be upgraded to increase productivity or house more dragons.
The game provides you with plenty of guidance as you play, from helping you with the combat sequences to breeding your dragons to creating new buildings in your city.
All the new tasks or missions that become available as you play Dragon Mania Legends is user-friendly so you can enjoy the game from the first entry.
For beginners, there are many dragons to breed and collect, and they go far beyond the basic fire dragons and wind dragons you begin with. There are smoke dragons, bee dragons, and even a melon dragon – a colorful dragon with a slice of melon wedged into its head.
Price: free
back to menu ↑
ZooCraft: Animal Family
ZooCraft is an app that will make you feel like a real zookeeper.
This is a brilliant game that gives you an opportunity to build and manage your own zoo, unlock thousands of animals and create the perfect habitat for them.
You have the ability to introduce kiosks, complete quests and manage revenues to keep the customers happy.
At the beginning of the game, you will have a limited space for your zoo that can be expanded as you level up. First of all, you will have to buy the habitat for the animal and place it anywhere you like then you can introduce the animals in their habitat.
As the zookeeper, you will also have to manage your finances, so you can generate revenue through each animal in your zoo. The game also includes certain quests that can also earn you a huge amount of resources.
Moreover, you can decorate your zoo to make it look more appealing to the visitors.
ZooCraft allows you to invite your friends to the game and show them around your zoo.
The game features amazing graphics and brilliant detailing and the background music with perfect sound effects makes the game a complete package of entertainment for the players.
Try out ZooCraft for some endless entertainment.
Price: free
Check also: 11 Best Character Creator Apps for Android & iOS