Photo processing is a very interesting and important part of the photographer's work. She can turn a raw and flat picture into a source of pride.
Sometimes it is very difficult to make unique photos. Thus, the effect of a photograph taken on film has become very popular.
Recently, vintage processing has become especially popular among photographers. Such videos remind us of footage from retro films. There are many special programs to create this effect. This list contains the best applications for creating retro videos.
Vintage videos instantly take us back to a completely different world. And you can give your videos a beautiful look of an old movie with these apps. There are applications in this list that allow you to apply special effects and create vintage videos.
Retro VHS – Old School Video
Retro VHS – Old School Video is easy and interesting to use but at the same time powerful retro video editor.
Very simple and nice application with a set of vintage filters and effects. For work, you must take a video or download it from the gallery ready. Then you should apply one of the many pre-made filters.
You can adjust its intensity and exposure, add a frame or "old film effect". If you do not have enough built-in filters, you can buy extra ones for a small fee.
Retro VHS – Old School Video surprises with the final result. All filters look very good on the video, creating the necessary shade and atmosphere.
Create mini-movies, combining and combining several passages into one video.
Take your video to the next level by applying special effects from a wide range of free and premium filters.
The application has several features:
Try on filters to your video and see how it will look.
Filters in Old Style, Retro and Vintage
Black and white filters
Cartoon Filters
No time limit for commercials
The convenient and beautiful application interface
And much more
Select the video quality when saving that matches your device. You can choose low, medium or high quality.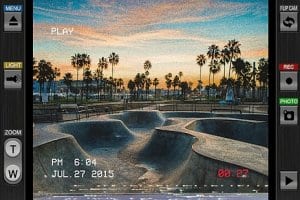 The application is available for download on all platforms. Retro VHS – Old School Video is a free application. However, you can buy extra filters and features.
You can also read: 7 Best Video Converter Apps for Android
back to menu ↑
Vintage Filter – 1957 Art
Vintage Filter – 1957 Art is an application for recording video with the effect of an amateur film camera. It is free but has rather limited functionality.
There are no additional filters and the ability to change or remove the date and time, which are displayed in the lower left corner.
But the program allows you to download any video from the gallery and automatically convert it to retro video. This is a very simple and convenient application that will appeal to both amateurs and professionals.
The application includes high-quality filters and effects for your photos. You can adjust the contrast, saturation, brightness, and other parameters. Then you will have the opportunity to go to the effects.
In this application, you can create an analog photo effect. This will help you with numerous lights and noises. Edited photos cannot be distinguished from photos taken with old film cameras.
The application helps to develop new trends in video editing. Do you like glitch art? The effects of noise and distortion will turn photos into works of digital art. Pak TV Glitches will help you in mastering this technique.
If you do not have enough filters in Instagram, then in the Vintage Filter – 1957 Art application you will find many alternatives. Filters look very natural and do not overload the image.
You can adjust the saturation of any filter or effect and use different blending modes. In addition, you can also combine an unlimited number of filters on one video. You can create your own editing style that will be difficult to repeat.
back to menu ↑
Retrica
There is incredible beauty in simplicity and minimalism. Retrica is a great example of this. Take advantage of an instant retro-camera with modern effects and functions. Thus, you will get an incredible result.
This application is ideal among all analogs. This is the latest application that combines the beauty of retro cameras and modern technology.
If you want to create a beautiful retro video, then this application is created specifically for you.
Features of the application Retrica :
interesting retro video filters
over 40 effects
flash mode
ability to use a timer
access to both cameras
you can select videos from the gallery
video sharing function through social networks (Twitter, Facebook, Instagram, and others)
automatic hashtags selection
With this application, you can choose the perfect filter and see your video in the preview. Adding effects takes only a few seconds of your time. You can enjoy the ease of use of this application.
Retrica will make your photos wonderful. To do this, you only need to select the desired filter and configure the remaining parameters. Choose your best video and enjoy editing.
back to menu ↑
Kuji Cam
A photo like in a polaroid is a trend that is now at the peak of its popularity. Create an effect under the film will help the application Kuji Cam.
Kuji Cam is a very simple and interesting application for creating retro-video. Here you will find a variety of filters.
You can add scuffs to the video, which will create the effect of an old film. Here you can adjust the intensity of the filter and apply the necessary characteristics.
The application allows you to capture memorable moments like in the good old days on a film camera. Kuji Cam allows you to make vivid and expressive videos, stylized like the videos of the old time.
The mobile program called Kuji Cam creates the best imitation of recording on videotape. The application is able to create the effect of the wiped film and degrade the sound quality. Also, you can simulate the movement of the zoom of popular amateur camcorders.
Besides, you will be able to widescreen shooting and insert the date and time at your own discretion. Fonts are imitated quite skillfully. You can share the footage can with friends or publish it on social networks.
The program presents a lot of filters that mimic different films. It is important to know that all filters are completely free.
In this application, in addition to filters, there are many standard settings. You can edit the brightness, contrast, add a little noise or dust.
A special panel is also available here. You can select the video quality, artificially spoil it, add a random red flash or set a timer.
The developers offer to use a number of features of the program:
use of wiped film effects, snow, and stripes of tearing of the image
setting the date and time of the video taken by the user
the original fonts are simulated as realistic as possible
customizable degradation of sound quality
widescreen shooting
manually set the frame rate to 24, 25 or 30 frames per second
the captured video can be sent to social networks or friends
Available filters include:
black and white mode
sepia,
vintage sepia,
movies of the 20s and home videos of the 60s.
You can also choose the quality of the created video:
low (192 × 144)
average (480 × 360)
high (640 × 480)
HD (1280 × 720)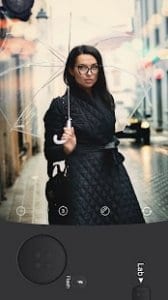 The application is free for both Android and iOS platforms though it has in-app purchases.
back to menu ↑
RAD VHS Camcorder
RAD VHS Camcorder is a great application for creating vintage videos. All filters add atmospheric to your video. Also here you can add music.
The application allows you to mount different videos in one video and synchronize music or text with video.
Inside the section there are the following options:
Crop
Size
Filter
Music
Sticker
Speed
Background
Text
Rotate
With the option "crop" you can crop the video and cut the necessary parts. Also here you can split different video segments with various transitions.
In the "size" function, you can adjust the video to the required format across the entire width.
In the option "filter" there are three subsections: free filters, effects, and RGB. Among the filters, you will find such as glitch, two types of reflection pictures and RGB.
In the "change" subsection, you can perform video color correction and even add grain.
Adding music is quite an interesting and useful feature. Music is available through various platforms. It is possible to throw off the song using the player. Also, you can impose different sound effects from thematic categories and voice-over.
The function "sticker" allows you to impose a photo on the video. As for stickers, there are a lot of them. Thus, you will have plenty to choose from.
The "speed" function allows you to change the playback speed.
In the option "background" blur available background. You can fill the background with color without problems.
The application offers free fonts. You will have the ability to install one or more phrases on a separate segment of the video. For example, you can add text to the beginning of the video or to the end. Different colors and the options: "border", "shadow", "label", "transparency" are also available.
With the "rotate" function, you can rotate the video 180 ° and 90 °.
It's free to download for iOS and Android users.
back to menu ↑
Glitchy – Glitch VHS rad cam
Glitchy – Glitch VHS rad cam is an application that has many different vintage effects. In this application, you can shoot videos with several different effects.
You can also select videos from the gallery and style them with a retro effect. If during the shooting to click on the screen, there will be a colored noise.
The application allows you to create the perfect retro video.
To do this, certain parameters are set that allows you to create the video, like on an old film video camera:
1. Pure color
2. Proper white balance
3. Special contrast
4. Lack of screaming shades
5. Harmony of color and contrast
You can download the application Glitchy – Glitch VHS rad cam in official stores and use it absolutely free. The program allows you to superimpose effects and dates on your videos.
Videos from the gallery can be added by clicking on the "+" icon in the lower left corner. The program will automatically process them. To save the video, you need to click on it and slightly hold. Then the boot arrow appears.

In addition to the filters in the application, you can select the frames that the video will have. You can also apply a vignette or an elegant orange flare. There is a twitching image effect that mimics low-quality film from the 90s.
back to menu ↑
Huji Cam
Huji Cam is one of the most famous vintage video creation applications. Today there is a tendency to use applications in which you cannot control the process. This is reminiscent of the creation of video using film cameras.
Here you can use a variety of opportunities. However, the developers made the application putting effects on the video randomly.
The filters that the Huji Cam application offers are very contrasting and intense. It has main colors like blue, green and yellow colors.
Besides, you can also choose the sound or music that will be used in the video. For example, you can add a sound from a camera, a piano, and another sound. This mode distorts the sound to give it a retro atmosphere.
After your video is ready, you can save it in your phone gallery, or share it on social networks.
Advantages of the application:
• Work in a horizontal orientation
• Very detailed and understandable instructions.
• A huge amount of video editing capabilities
• Lack of paid features
The app is perfect for styling your videos. At the same time, it is necessary to note about the very high quality of filters. Filter strength can be changed. Also, standard tools are available for working with exposure, color, and other things.

In general, it is worth noting that the application is very easy to use. The intuitive interface will help you easily understand application usage. Besides, you can apply the huge number of functions built into the application Huji Cam.
back to menu ↑
8mm Vintage Camera
8mm Vintage Camera is an application for creating a retro video that you will fall in love with after the first use. In this application, you will find a large selection of filters that are stylized as old filming.
The first thing that impresses is the design of the application. He is already inspiring. As soon as we start working, we see a rich selection of various textures. By the way, you can also create textures by experimenting with various parameters.
When you first start the user can view the main features of the application.
8mm Vintage Camera is the easiest to use application. It is only necessary to upload videos from the gallery and apply one of the proposed filters. During processing, you can change the degree of intensity, contrast, and exposure.
You can use the effect of the old film and all sorts of vintage frames.
Your videos will look atmospheric. You can set the video frames yourself or select the "vignette" function. Also in this application, there is a function "orange flare".
This tool will make a boring picture more interesting. If you take a special button while shooting a video, the image will move slightly.
This creates the effect of low-quality video. The application saves the quality of the picture.
Some features of the application:
• Picture color – black and white, color, sepia, and others
• Crop – original size, square and other scales.
• Eye intensity – the program automatically finds an area with eyes, you can lighten or darken them
• The amount of texture and the presence of the frame
• Depth of field
In the application, you will find such functions as shooting date, strips on the screen or dim colors. Sound change (film hiss) is another distinguishing feature of this application.
back to menu ↑
1998 Cam – Vintage Camera
1998 Cam – Vintage Camera is the best solution for creating the perfect vintage video with retro effects of old film cameras. The app creates an analog film effect. Also here you can find such parameters as Polaroid and film dust.
The effect of the old video is now very popular. This application will help you to make your videos unusual. All you need is to select a video from your gallery and apply one of the filters.
You can also change the saturation of the colors and add yellowness. Using the "texture" function, you can add such trifles as dust or minor scratches. The classic Sepia and Grayscale filters will help add natural tones to your video.
With the help of vignettes, you can make the edges or corners of the video burned out. You can also lighten the edges of the video.
If you want to create a black and white effect, then you should use the "Asphalt" filter with the largest intensity. This will make your video monochrome. You can use all filters individually or combine them.
Features:
• More than 60 color filters: vintage, retro, black and white and others.
• Random Light Filters
• Instant Preview
• Ability to add dates
• Film dust
• Scratch and landscape
• Auto-timer
• Edit the filter, apply the effect after shooting.
• Change video filters and effects during shooting.
• Autosave video to gallery
• Import a video from the gallery
• The application is free
You can share your video using Instagram, Twitter or Facebook.
Using this simple application, you can age any photo and make it naturally. The convenience of video editor 1998 Cam – Vintage Camera is its simplicity.
You will not need to create many layers and understand the nuances of the settings. Combine filters and experiment with different ways to make a vintage video.
Check this: 15 Best Font Style Apps for Android & iOS