In this article, we have collected 15 employee attendance tracking apps that will play a beneficial and money-saving role for your business. Boost the productivity of your staff, automatize the process of workers attendance control. Throw away traditional paper-based timesheets.
Some apps even can track employee location that will be helpful in case of on-site work. Have full control over operating hours is efficient for the profitability of your business. Check out these apps for Android and iOS devices.
Wifi Attendance
As long as each office nowadays equipped with Wi-Fi it is very beneficial and economical to use Wi-Fi-based attendance tracking app. Cost saving decision to install Wi-FI attendance app can help a business to improve its productivity. Since all employees will be automatically detected without the biometrical punch in the system. Thus the management will know each worker`s location.
The app is intuitive and will create time reports with overall time at work including absences and leaves. It will show how many times was detected a late punch it or missed punch.
Luckily the app is free up to 10 employees in small offices. It will cost 1$ per person per month in companies with up to 40 employees. And so on. By far the highest price per month per employee is 2$. It's really a convenient and budget-saving app.
back to menu ↑
Employee Attendance
Employee attendance is a simple uncluttered application to track your employees manually. It chiefly convenient for a small team of workers as the manager has to operate with the app alone. It's his responsibility to add new members, create a schedule for them and monitor their attendance. The app just simplifies this process providing your final report.
One of the considerable pluses of the app is a widget function. No need to even open the app. The app is free. It weighs way too few. But it's available for Android only.

You can also check: 10 Best Employee Scheduling Apps for Android & iOS
back to menu ↑
Time Clock Wizard
Time clock Wizar is a great attendance tracker app with 30 days free trial option. Moreover, it will calculate payroll and manage employees' schedule. The great news is that the app is based on Cloud Service. This lets each employee or manager access the app from any device with a login and password.
Another beneficial feature of the app is a geo-fencing controlled clock in at the office or on site. Plus the app captures a photo of an employee in the moment of a clock in and out. This is to prevent errors and dishonesty.
Monthly fees are applied after the free trial period regarding a subscription. It depends on the number of employees. There are unlimited employees number plans and limited. The maximum monthly fees around 100$.
back to menu ↑
Employee Time Clock: Tracking Clock In / Out
As long as biometric attendance systems are way too expensive employee attendance apps can be the right solution. It's applicable particularly for not big companies which try to save costs. Em[loyee Time clock is Cloud-based app that allows with a clock in and out track your employees thus have control over working discipline.
Free trial version is available for 60 days and includes primary attendance feature. Other commercial subscriptions offer face verification and fingerprint scanner.

back to menu ↑
Employee Management System: Attendance Manager
This app is literally an HR management platform that includes attendance, payroll calculator, leaves, overtime, etc. Marking attendance on a daily basis the app will produce daily payslips for each employee. It will be done automatically by the app. Furthermore, it will calculate debits and loans.
Salary slips will go in a full report and will go with full time, leaves half days and holidays. Full detailed report for your service without much effort from your side. Moreover, all reports can be shared via SMS or email in PDF format. You can back your data as well.

back to menu ↑
Zoho People
Specially created to simplify the HR work Zoho People app offers multifunctional feature package. HR can store in the app files, costs, travel processes, timeshifts, leaves and of course attendance management. Briefly, it contains all HR processes required for daily routine.
Attendance tracking can be managed via the current biometric system, web portal or the app itself. Besides HR is free to customize the app, adding templates, forms, timetables.
Zoho People app has different plans with the starting price per employee 0.83$. 15 days of free trial is available for all plans.
back to menu ↑
Labor Sync
Labor Sinc app will track on your employees check in /check out on working place. Moreover, it will track on staff current location especially at a time on site. The app can replace traditional paper-based timesheet and play the role of expensive biometric equipment.
The app supports around 15 different languages.  It also protected with personal login and passcode. It accurately tracks time without mistakes. Labor Sink has been downloaded thousands of times and has primarily positive comments.
back to menu ↑
Hubstaff
Hubstaff is accurate and advanced employee tracking app that is popular among companies. It can track workers, manage payroll and even check the location of each employee using a GPS system. Available dashboard lets to check employees in real time. With Hubstaff you will have full control over your workforce.
The developers claim that they minimized the battery consumption and the app can work on the background not distracting you from your current work process. It's possible to have access to the service via a web portal, no backup is needed as the service is cloud-based. The price starts at 10$ per employee per month for premium.
back to menu ↑
Attendance Tracker
Attendance Tracker is suitable not just for companies and their employees. It's very much applicable for sports team attendance or classroom and other kinds of workshops. It helps to track attendance on any kind of events. Effortless. Option to set a backup function s available for your SD card on your Android device.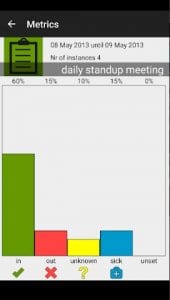 This app is sort of manual attendance tracker. A manager must manage all in his device, adding participants of events or employees. In the end, the app provides you with reports, metrics, and stats. All of them can be used for payroll or any kind of reports during meetings.

back to menu ↑
Alora – Attendance Tracker App
Alora is an attendance manager that keeps tracking on employees and events members at meetings classes or sport team gatherings. This professional app will simplify the process of attendance control. It's suitable for employers, teachers, and coaches.
Note that it most convenient for small groups and teams as the manager has to control and mark attendance manually. At the end of the period, the app will generate reports and statistics. The app will cost 3.99$ per month. Available for both Android and iOS.
You can also check: 17 Best time tracking apps for Android & iOS
back to menu ↑
Virtual Attendance
It's one of the simplest yet helpful employee attendance apps in our list of similar apps. It will specifically track the attendance of each employee in your company. It's suitable for small offices and it's free for up to 5 employees organizations. Exceeding these numbers organizations will pay around 5$ a month.
The principle of this app is QR code scanning from personal id. Each employee has his own individual profile with a personal QR code. The app is supported by Android and iOS devices.
back to menu ↑
Where's My Staff – Real Time
Where`s my Staff is an advanced and astonishing app suitable for small and big companies. Besides simple punch in and out system, it will track employes location and movement during a day showing whether they went straight to the site or made their own route. It's applicable for sales as they are out of their office most of their time.
The app requires an NFC system so employees can punch in and out in the office using their phones. Using internet connection information about employees can be updated even in offline mode. QR codes are also supported in case if a phone doesn't support NFC system.
back to menu ↑
TimeStation
Time Station is yet another cloud-based attendance system. Easy to operate application will help to have full control over your employee's existence in the office. A manager has to create a personal barcode or Qr code and hand it for each employee. Staff will punch in and out scanning this QR code using a mobile device.
One significant plus is that the app can track on being offline and summarise everything at the moment the internet connection has returned. managers can access all reports on mytimestation.com. Payment starts from 19.95$ per month for 20 employees with a one-month free trial.
back to menu ↑
DeskTime
DeskTime isn't just tracking employees` attendance. It also monitors and calculates the time dedicated to each task. It works easily. A staff member has to just log in a task through the app. So the whole working process can be fully under management' control.
Therefore managers can track on how much time spend on useful activities and how much time is wasted by their employees. Time on the phone can be tracked as well. The app shows a summary report with a number of productive workers, slacking ones, the total efficiency of the day.