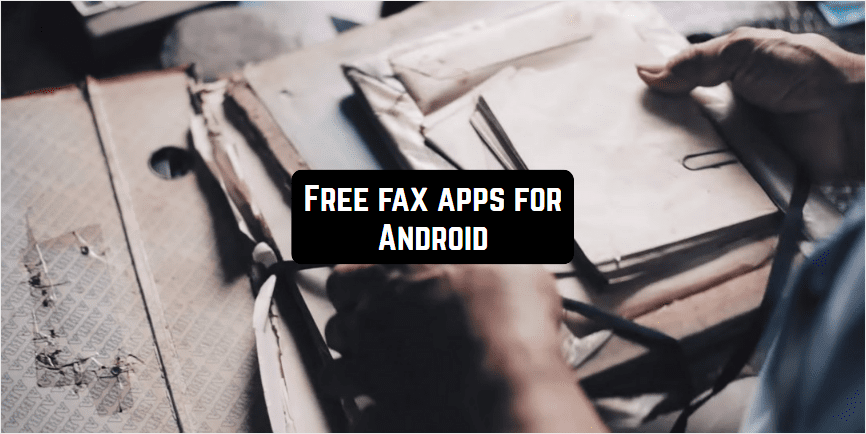 Fax is an old-fashioned way of sharing information, like documents, photos or text. It's convenient when it comes to getting something that requires printing. You may wonder who could possibly use this 20th-century machine in our time of technological progress and development? Well, there are certain groups of people – businesses, governmental structures, hipsters.
In fact, the reason fax is used can be quite logical – faxing takes less time than getting an email, saving it, and only then printing it. It's okay if there is just one scanned doc, but if there are hundreds it really makes a difference. Whatever YOUR reasons for faxing are, you have probably clicked this article either because you don't wanna buy a huge machine that takes a lot of space or you need to send faxes somewhere quickly and, if it's possible, free. If the answer is positive, you are in the right place! Below, you'll find 7 fax apps which are either free or at least have a free trial. No more rambling, let's get down to business!
Best Android fax apps:
1. PC-FAX.com Free Fax
PC-FAX.com is a free fax app that nevertheless has got some restrictions. The thing is that it allows you to fax only one page a day. If you want more you gotta buy the app (one-time payment).
Among the good things though is availability in 50 countries! So basically you can send fax almost anywhere. The app doesn't require any registration – you just download it, open it and here you are, ready to use it. You can send texts, pictures, documents. As for the last one, there's a special scanning feature that regulates lightning. In sum, this is an extremely good multifunctional app that can be used daily without any payment!
2. FaxPlus
FaxPlus is a free secure online faxing service – it is not just for phones, it's for all the devices that can be connected to the internet. By saying the app is free, I mean it can be used with no paying at all but with some limits. These limits concern the number of pages that can be printed per month. This number here is 10.
10 pages per month are alright for someone who doesn't use fax a lot, but for businesses, it is immensely few! For those who use fax a lot, developers make several offers – the cheapest one costs $5 per month.
The app has an extended feature set. It includes scanning feature, organizing, scheduling and so on. One of the most remarkable features is signature-making. You can sign docs right in the app instead of printing them and scanning them in order to send back. Get this amazing fax app right now, try it for free and see if it suits you!
3. EasyFax
EasyFax is a simple fax app (obviously). It comes with a price, however there is a one-page free trial, so it may be worth your consideration. The app works best in USA and Canada. Moreover, in these two countries it is the cheapest. Sending one fax costs between quarter dollar and half dollar (depending on how much 'credits' you buy at once). It's not such a high price, especially if you send fax not regularly, but from time to time.
The app allows you to send docs and pictures. Before sending you can view them and change some details. There is also a scanner if you need one and other cool features like tracking sent files, getting notifications and so on. The app has many positive reviews on Google Play, the greatest thing is that you can try it for free! Only once but still.
4. PamFax
PamFax allows to fax 3 pages for free and then, like many other apps, it starts requiring money. The price, though, is quite low – only about $0.10 for a page.
With this app, you can send docs/pics/texts anywhere, using either your phone or tablet. The app even allows receiving fax! A free trial includes a whole month of inboard faxing. Among other features are previewing, viewing history, and creating cover pages using special templates. The app is quite easy to use – design is minimalistic and clear. Get it now and see if this one is what you need!
5. eFax
eFax is an excellent fax app that can perform all kinds of operations connected with fax. As usual, you can send and receive docs, pictures, etc. When you send something, you've got several options to try out – the most interesting ones are editing and signing. You can prepare your signature in advance and then just add it to the docs you need to have signed.
The app offers you unlimited storage of faxes – never lose anything! If you have Google Cloud Print, you can print received docs right from your phone. If you don't, I recommend you getting it or something similar – you can find such apps in this article: 11 Free print apps for Android.
Now, about the price. If you are a US citizen, you have a month of a free trial of the app. There are some limits, of course, but still, this is quite a long term. If you are from some other country, unfortunately, you have to pay right-away. Fax can be sent to all the countries in the world or how they write in the description 'over 200' – maybe you can send fax even to those countries that don't exist yet – I don't know! Anyway, this app is dope! Get it (esp. if you are an American), get a print app and enjoy the easiness of dealing with documents!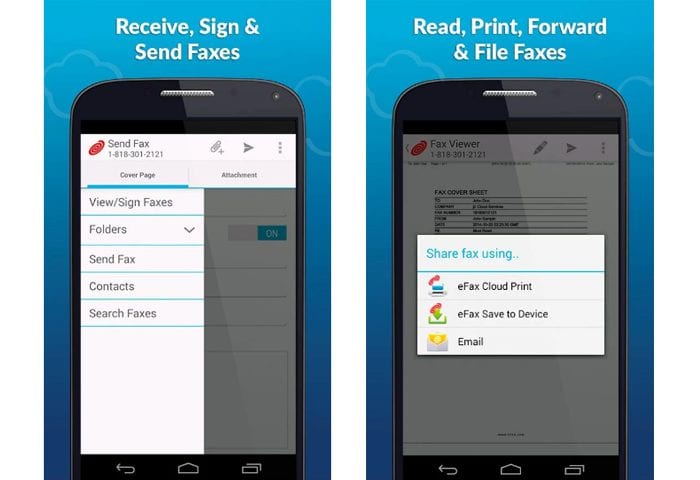 6. iFax
iFax claims to be the cheapest app on the market. Prices are indeed quite low – you can check them if you want in the app's pay list. The price usually depends on where you are sending a fax to and the number of pages. But, as you have probably guessed, the app is on our list for a certain reason. This time the reason is that you can get yourself free credits by making your friends use this app.
And it's not the only thing. One more 'bonus' is a free fax number that would last for 7 days (US only). Yes, it means that you can not only send faxes with this app but also receive them.
As for the sending though, the number of features connected with it is quite impressive. You can add to your fax your signature, company logo, a note or a cover page (by using a ready template). More than that, you can scan documents before sending and edit them in the way you like most – change lightening, sharpness, etc.
When you're done with all of that, chosen a receiver and finally sent something, you get a notification that your fax has arrived where it was supposed to arrive. And you can also get notifications about your new incoming faxes. So, if you happen to have friends whom you can bother and who don't get annoyed, download the app and try to get free access to faxing!
7. CamScanner
CamScanner is a productivity app, to be more exact, it is a scanning & sharing app. To see more productivity apps go to this article: 25 Best productivity apps for Android & iOS 2017.
Besides all the scanning features, which are by the way really good, the app has got 'sharing via fax' feature. It is not free – you can see the cost on the screenshot down below. For some, this might be not a lot, especially if you're gonna send only one or two documents – this is why we decided not to leave this app out of our list.
CamScanner supports scanning to 35 countries. So, if you need scanner & fax machine all in one, this is the best thing to get ever! Of course, some other apps have lower prices – if you want to, you can get this one for scanning and some other app for faxing. Anyways, we thought this one could be of a use for you!
These were the best fax apps for Android. Check out our site to find more cool apps that will ease your life, stay tuned and, as always, be smart in choosing apps!