We all live on land and do not suspect that there is another kingdom in the sea and the ocean, of which very few people know – this is the Sea Kingdom, in which there are many fish, dolphins, whales, as well as creatures such as mermaids. Little Mermaids are very similar to people, but their fate has developed so that instead of legs they have a big fishtail.
Being a mermaid is not only dress up in the tail but also feel like a mermaid. If you're a real mermaid in the soul, you will like this selection of apps for Android and iOS!
Mermaid Princess
The game Mermaid Princess offers you to dive into the underwater world, where you will be side by side together with magical princesses mermaids.
The magic powder has turned our princesses into mermaids and now they are ready to have fun in the underwater realm. You have to explore the world underwater, and in this, your favorite mermaids will help you. You will be contacted by fish for help, which you will have to cure using an x-ray and a stethoscope. However, your main mission will be your design taste. Mermaids need properly selected outfits, and who if not you can help them in this. The clothes will be peculiar, for example, a crown made of sea jewelry, or swimwear made from sea shells. You can also cast your vote in the contest of fashionable clothes. In this case, you yourself can create this or that nautical decoration.
In addition to mermaids, you need fish, for which you will need to pick up hats, waistcoats and many other carnival accessories. Also in the game, there are mini-games that will dilute your fashion life. You have to help to collect things that were lost after the wreck of the ship. Or to compose music with princesses.
iOS version
Princess Salon: Mermaid Doris
Princess Salon: Mermaid Doris – have you ever dreamed of becoming a mermaid to explore the depths of the ocean, the amazing animals and plants that live there.
You are in a fairy tale full of boldness and a thirst for discovery. The desire to know the world and to become free will open for you a completely new and wonderful world filled with adventure. You act like a mythical creature – a mermaid. Let the waters of the sea take care of your skin, apply a wonderful make-up with the help of fantastic cosmetics. The witch will show you how to become the most beautiful. Share the most memorable moment with your friends. You will immerse yourself in the atmosphere of an amazing and fantastic underwater world in this magical game!
Android version
Check also Top fashion games for iOS & Android
Mermaid Puzzle: Fish Rescue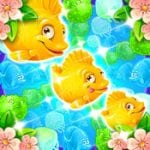 For lovers of marine themes, there are two news: one is good, and one is bad. The good news is that now you have the opportunity to download to your mobile device an exciting puzzle game Mermaid puzzle – Fish Rescue! And the bad news is that tons of garbage were thrown into the ocean depths, and now you have to work hard to clean the water surface and save marine life from death.
Help Princess Mermaid to save fish and collect seashells. Accumulate the game capital, and get rewards from the Little Mermaid! Go through all levels, and they are almost 1,500 and every two weeks developers add new ones. Meet with the friends of the Little Mermaid: octopus, jellyfish, fish. Help them avoid predatory sharks and filibuster networks. Remember that for each level, there are two options for passing, and this makes Mermaid puzzle – Fish Rescue! even more interesting.
And although the levels do not change visually, and events unfold according to pre-formed conditions, interest in the passage does not vanish. Most likely, because of the high complexity and additional tasks, which cast a serious challenge. Fortunately, over time the arsenal of the main character will expand – there will be activated bonuses that remove entire strips of waste. And now click to download Mermaid puzzle – Fish Rescue! and start the fight for cleanliness!
Do not forget to invite your friends to the game. Give them an opportunity to help the marine inhabitants! Compete with them in skill and go out into the leaders!
Mermaid Makeup Salon
The game Mermaid Makeup Salon is a special application for mobile phones and tablets, with which you can create the most stylish, bold, and original makeup options for the fairy mermaid. You can take your character to a spa, and use a variety of tools to create unforgettable images. In the game Mermaid Makeup Salon, a huge number of levels is available, each of which is a special task, after which you will be credited with bonus and game points. Each victory in the level one step closer brings you to create a better image. A distinctive feature of the game is a bright and colorful design. The game is also accompanied by cheerful incendiary music, which will inspire you to create new types of makeup.
The Mermaid Makeup Salon game is very easy to manage: all actions are performed by pressing just a few buttons or by simply touching the screen. In addition, the game is completely free and does not require downloading additional paid content.
Mermaid Makeup Salon – your opportunity to show your skills as a make-up artist and acquire a new unique experience.
Mermaid Adventure 3D
This is a game on Android and iOS, in which you will control the mermaid and swim in the depths of the blue sea. The game is made specifically for children, in which you will enjoy beautiful views of the seabed and easy control. Swim, collect pearls, and get special bonuses that will help you protect yourself from octopuses and other evil creatures inhabiting the sea.
Suggest this game to small users, we guarantee that they will definitely like it and this game will become one of the favorite!
Mermaid Princess Puzzles
Many girls like mermaids and games with their characters in the title role lead to the delight of young children. And if the game of mermaids combines also puzzles – then this is an excellent time to conduct. A great animated puzzle-type application that will take your children for a long time.
The illustration is made by the bookbinder of children's books Laura Tallardi.
At your choice, there are 12 puzzles with mermaids.
The level of complexity varies with each level.
Excellent management.
In the free version, you only have 4 puzzles, to open 8 more you will need to make internal purchases.
Mermaid Beauty Salon Makeover
The life of mermaids is filled with many mysteries and interesting adventures. Do you want to live one day from the life of a fairy mermaid? Then download this application on your smartphone and play an amusing game! For the beginning, let the mermaid take a relaxing bath, after which our heroine can go for a walk and play with friends, such as fish, dolphins, etc. You will also have the opportunity to build your own sand castle. In the application, there are many mini-games. Have fun and spend a good time together with the Mermaid Beauty Salon Makeover application.
iOS version version[/wpsm_button]
Mermaid Princess Makeover
The game about Mermaid Princess Makeover is an exciting application, in which you will be a master make-up artist. Well, you'll just gasp with happiness, when you find out whose appearance in the game you are entrusted to convert. The most real mermaids will be your models. If you want to participate in the process of transforming mermaids, then run the application as soon as possible and join the process. In front of you, there will be some of the most beautiful sea creatures. To look super charming, they need your immediate help.
In a beautiful underwater realm where fish float and algae move, the mermaid sits on the stone waiting for you to take decisive action in the game. We must tell you at once that our characters are the most fashionable and stylish characters in the ocean. Therefore, choosing a hairdo, you should approach this event with a special refined taste, so that the hostess really likes your choice. Choose the most exquisite and bright, sequined outfits to the stunning fishtail! And this is only half the battle in the process.
No apparel will look perfect without proper accessories to it. Therefore, in the game, you  are given a wide selection of such accessories. You, having a stylish taste, put on the first heroine of the game crown, earrings with a necklace and bracelets on both hands. Well done! You managed to create a magnificent image. Do not forget about the nice makeup for the sea princesses. This game is full of wonderful graphics of the image and a bright range of multi-colored shades, which makes it more interesting and tempting. The game – an excellent application in which all age categories of the beautiful half of our planet is given the opportunity to experiment in creating exclusive outfits and improve the appearance of marine creatures. Play this fun and get a lot of pleasant impressions and uncontrollable excitement.
iOS version
Mermaid Dress up for Girls
In this game, little princesses have to take care of the appearance of all the court mermaids living in the palace of Poseidon. And the peculiarities of this dressing room are in the characters themselves. Would you wear a tail like a transparent veil of blue fins on a normal girl? Or for example, how interesting will the full-sized trident in the hands of the model look as an accessory? And here it all looks very harmonious and diversifies the huge and monotonous line of games of this genre.
We have four different mermaids to choose from. They differ quite strongly and without a dress. Each has a different color and a cut of the eyes, skin color and type of face. So for all, it will be necessary to select a style strictly individually based on its initial external data.
As it was written, a special attribute, which is not found in any similar game, is a chic tail. Its options are available more than three dozen. Different colors, styles, and formats. There is something from which to spin a little the head of a young designer-stylist. But do not worry. For beginners, the game has a help mode, in which there are little tips, which item with which accessory or outfit is combined best, and which is not very.
The most interesting in the game is the selection of hairstyles for mermaids. If all sorts of outfits a few dozen, then thanks to a special hairstyle master their appearance can create several hundred! Any colors, any length and hair styling. All this in the hands of the player. So you can create and not be afraid. Mermaids, they are like fish, silent and submissive and always ready for experiments and sacrifices for the sake of beauty, especially for the beauty created by the hands of the child.
Still, the creators of the game took into account the moment, that now almost every child has an account on social networks. Therefore, the player can not only contemplate the result of his work but also share his creation with friends in his social network.
Android version
Mermaid Craft: Ocean Princess
Thanks to this new game, gamers will be able to immerse themselves in the depth of the incredibly deep sea. Together with other players, you can plunge yourself in an exceedingly interesting story, thanks to which the study of the territory will appeal to many gamers. Try to become a real mermaid, so you can become a princess of the great sea. Take care of the administration of the kingdom and show everyone around you that you are the best.
Each player expects a highly beautiful world under water. We are immersed in the territory of paradise islands, where a lot of secrets are stored, they are all very good. Many gamers want to be in the City of Mermaids. It is there that you can become a princess of the great mermaids, and also start an adventure by sea. Dive into the water, and also study the whole empire. Visit the ruins, go to the bottom of the ocean and find a pirate ship that sank. There you can find treasures and become several times richer. The only thing that you may not like at all, is that the ship can be dangerous and will bring to life every person some problems. Can you risk and go to the incredible story together with the Mermaid? The Kingdom is very large, it will attract the attention of every person.
Spend a lot of time in the game, show abilities in creativity and construction. Expand your abilities, try to get resources and start building some places. Design a city and prove to everyone that you are the best manager. We hope that you will like everything and you will plunge into this world.
Android version
Mermaid Grows Up
Mermaid Grows Up – a fascinating casual game for mobile devices that will take you to the enchanting underwater world and acquaint you with the life of everyone's favorite fairy-tale creature – the mermaid. Colorful three-dimensional graphics, exciting gameplay, and intuitive interface will be dragged into the game world for a long time and will give the sea of a pleasant experience.
In one of the underwater houses, mermaids mother gave birth to a beautiful daughter. She is still very small and defenseless. Your task is to learn how to take care of her and protect her from all troubles. Together, go on an exciting journey along the road of life. Learn to care for a little mermaid. Feed her delicious and healthy food, dress in charming clothes for little princesses, bathe in warm water. Play and entertain the baby in every possible way. On the first birthday, create a grand celebratory event, at which the whole family will gather together at a large table. Help to get ready for school, and together do your homework. When she is a little older, teach the little mermaid to dress stylishly and correctly apply makeup. At the first job in a bakery, learn how to bake delicious cakes together. And finally, take part in the organization of one of the most important events in the life of the girl – the wedding.
Install Mermaid Grows Up on your gadget and enjoy the colorful gameplay.