How do you feel about flying? No, not rooftop or bird flights, but real flights? Have you ever wondered what it feels like to be a pilot on an airplane?
Obviously, it is dangerous and responsible to be a pilot of an airplane, because the lives of hundreds of passengers and crew are at stake. The airplanes are not the most maneuverable machines.
And what if you want to fly in a smaller vehicle? People underestimate helicopters and their pilots by mistake, their work is no less and sometimes more dangerous than that of a plane pilot.
There are remote regions in the world that can only be reached with the help of fast helicopters; they are used in megacities in police departments and hospitals to deliver emergency patients.
Helicopter pilots are heroes, but who doesn't want to feel like a hero? Even if your helm is a smartphone, we present you the top of the best helicopter flight simulators.
Police Helicopter Flying Simulator
Police Helicopter Flying Simulator is an application that simulates the operation of a police helicopter. Experience the city policing and fighting crime! Already feeling responsible? No? You have to!
Because the application is not just a flight simulation, it also includes a series of missions, episodes, and tasks! You can download 20 free levels and missions.
For example, in the city, there will be a wildfire, which can be extinguished only from a helicopter, or find people who have been lost in the woods, collect oxygen cylinders from the roofs and much more.
You can use high-powered magnets and even drag and drop incredibly heavy objects and unload containers! Players have a huge area to explore.
In addition to realistic helicopter control, you can also enjoy the views, sights, and nature around and a bird's eye view. Dynamic turns, realistic physics, easy handling – become a real pilot with a phone in your hand.
back to menu ↑
Helicopter Simulator 2017
Do you feel like you want to help people? Can't you see yourself without the help of strangers? Become a helicopter pilot in Helicopter Simulator! Many missions, as many as 20 free levels, realistic graphics and aircraft control.
Often in such games, we encounter a lack of realism – everything looks like performance and cartoon. However, if you are looking for a real experience, then Helicopter Simulator 2017 is for you.
For example, you may have a mission to intercept a group of dangerous criminals who escaped from the city on a tank! Or drag unbelievable cargoes over a long distance. Explore the available terrain to complete 20 exciting missions.
You can choose your own technique: take rescue helicopter, police helicopter or emergency helicopter from the hangar. Remember: different missions may be more comfortable on different aircraft!
In addition to the pilot, you can become a firefighter, policeman, rescuer and even a member of the secret government facilities. Where else can you try on so many roles? Moreover, the easy touch control will only increase the fun of the game.
back to menu ↑
Helicopter Flight Simulator 3D
Helicopter Flight Simulator 3D provides you with exciting missions in which you can feel like a top-secret agent.
You'll be in charge of managing an army secret helicopter. Your duties will include rescuing people, shelling enemy territories, and collecting items. Use a high-powered magnet to collect heavy objects.
The level of difficulty of the mission depends on its level: for example, at the first levels, you will need to learn how to fly an army helicopter. As you go through new missions, the tasks will become more complex.
You will practice your new, more advanced flying and flying skills. As you progress through missions, you'll discover new items and gadgets that you can use to improve your gaming skills.
Have you always wanted to be an army pilot? Well, fasten your seatbelt! With Helicopter Flight Simulator you can get closer to your dreams.
You can also check: 13 Free games like Battlefield for Android & iOS 2019
back to menu ↑
US Army Helicopter Flight Simulator Rescue Mission
Do you think military service is boring, just marching and discipline? And what about the real incidents? The US Army Flight Helicopter Simulator will prove to you that emergencies happen in the army and you can feel like a hero.
The game is a storyline that attracts even more. According to the developers' idea, there is a snowstorm in the mountains and the victims can't do without help from the air.
You are in the role of a brave soldier who should help ordinary citizens by helicopter. You've never driven a helicopter? And here you will have to manage it in an emergency situation!
Tension and sense of responsibility for other people's lives are your emotions. During the rescue mission, you will feel the love for this military helicopter, the equipment will become almost your friend.
When you install the US Army Helicopter Flight Simulator Rescue Mission, you choose the level of difficulty you want to play at. Over time, you'll be improving your flight skills and complicating your mission.
Think of yourself as a helicopter pilot! The advantage of the game is that it is completely free. At the same time, the application has a convenient control, so that even a beginner can cope.
How does it feel to be a hero? Feel it with the help of US Army Helicopter Flight Simulator Rescue Mission and save civilians.
back to menu ↑
Helicopter Simulator 2017 Free
Helicopter Simulator 2017 Free is a free version of the simulator with a huge number of missions. In the game, you have a huge selection of vehicles to fly. Over 30 helicopter models, including some that are available for free!
The place of the game is the largest metropolis in New York City. So in addition to the basic tasks, you can still enjoy the views and sights of the tourist city. The city is described in detail, with excellent 3D graphics.
The game scenario is developed so that you will not get bored. Trucks, cars – all equipment works in parallel. It creates a sense of the reality of what is happening.
More than three thousand missions, different in complexity and storyline, 3 types of pilots. The application simulates the movements of the helicopter exactly as on real equipment. The simulator is identical to a real helicopter.
Do you get bored? Rescue, military and other missions will save you from boredom.
back to menu ↑
Cobra Helicopter Flight Simulator AH-1 Viper Pilot
It is understandable from its name that this application simulates the control of a specific helicopter – the AH-1Z Cobra. This is a real combat helicopter that performs military missions and serious missions.
This helicopter is a striking helicopter used in many countries. Sometimes it is called HueyCobra, so you can know it by that name. Although it has been replaced in some places by an improved model, it is still used in the U.S. Army and a number of countries. So you can feel like a real pilot.
The uniqueness of this simulator is in the full simulation of the pilot's cockpit and the shooter. You can control and destroy Hydra missiles!
The most accurate details of the destruction and equipment, realistic control of the really used models. Want to be realistic? Then this application is really for you.
back to menu ↑
Chinook Helicopter Flight Sim
Chinook Helicopter Flight Sim is one of the best simulators of the Chinook helicopter version. While playing the game, you will be using this machine to destroy enemy cars and buildings, to make shots and all this at an impressive height. From the air, you can perform missions.
The game has realistic sound and video effects. You fully immerse yourself in the atmosphere of the mission, give in to the game and fall out of reality!
You will have a realistic 3D cockpit at your disposal – feel how the pilots on board feel; detailed implementation of the Chinook CH-47 helicopter; full display of structures and graphics; realistic movement; detailed visualization of your environment; and, of course, realistic flight simulation!
Travel by helicopter on missions and cities at Chinook Helicopter Flight Sim.
back to menu ↑
Hind – Helicopter Flight Sim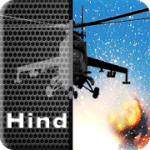 Hind – Helicopter Flight Sim is another Flight Sim Studio simulator.
In the story, you are initially at the airbase. Explore it! From there you can go to nearby small towns or start exploring the beautiful mountains. At the same time, you are given the opportunity to test your combat capabilities at the airbase.
Be a rebel – destroy any building or building. The application graphics will show you the detailed consequences of your attack. Flying walls, concrete crumb – a sight to behold!
The application is versatile and supported on any platform. Clear control from the very first minutes will not inconvenience you.
Jump into the Hind cockpit and go to heaven!
back to menu ↑
Osprey Operations – Helicopter Flight Simulator
Guess who the developer of this game is? Of course, Flight Sim Studio. This time the team presented to the players the version of the flight simulator for V-22 hybrid airplane-helicopter. It's impressive, isn't it?
If you have a question, "Why should I be impressed by it?", we start a minute of cultural education in our article. The V22 Osprey is almost the most expensive aircraft available to the U.S. Army.
It is famous for its impeccable performance in Afghanistan. By the way, you are in the game exactly there, and there is also a choice of tropics – a small tropical island.
V-22 Osprey is a multifunctional modern helicopter, it is multi-purpose and military. The technical feature is that short landings and takeoffs are possible, and this can be boasted not all models of helicopters.
And this model is unusual – a combination of an ordinary classic helicopter with a cargo aircraft, which has powerful turbines – it's impressive.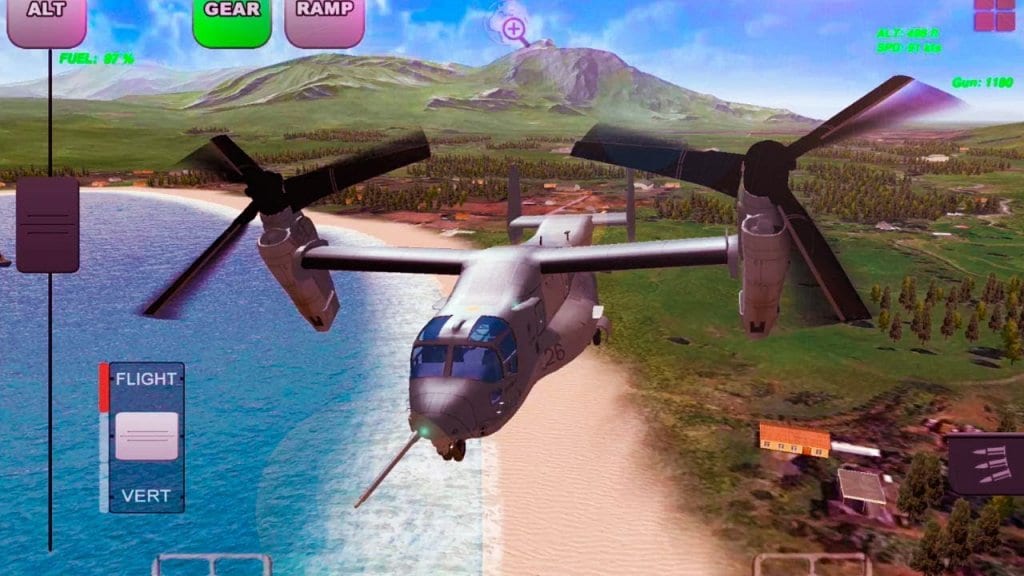 The Osprey Operations Helicopter Flight Simulator app is free to use, so you don't have to make any extra purchases.
Bright 3D graphics, realistic controls, rotating rotors, missions that can be both combat and transport, all of which distinguish the application from others. And download it or not – it's your decision, but we believe that it's worth trying.
back to menu ↑
X-Plane 10 Flight Simulator
The most popular helicopter simulator! This is understandable – because the application combines the power, strength, and detail of the computer version.
Details of the terrain where you can fly. Realistic 3D airport complex, which has both runways and airport terminal, buildings that seem real, cities look like real ones.
If we're talking about realism, we can't help but mentioning the cockpit – a lot of levers, buttons, amplifiers – just like in a real cockpit.
What is the difference between X-Plane 10 simulator and others?
1. 9 free master classes – takeoffs, landings, maneuverability and traffic patterns.
2. interactive cockpits, real systems, and sensors.
3. Full helicopter launch from any state.
4. 50 simulated situations.
5. Emergency situations, missions that involve combat missions.
X-Plane 10 provides users with 2 free planes and 5 mission locations. A wider selection is available in a paid version of the application.
Experience piloting as an aviator right now with the X-Plane 10 Flight Simulator.
back to menu ↑
Carrier Helicopter Flight Simulator – Fly Game ATC
The Carrier Helicopter Flight Simulator is a highly realistic, high-quality helicopter simulator. Detailed graphics, attention to detail, physical accuracy and a complete simulation of the response of the technique – that's what's immediately noticeable in this application.
You will find yourself in the cockpit of UH-60 Blackhawk and feel its capabilities. You can explore the tropics you are in. There are picturesque mountains, rivers, and lakes on the island and you should explore them all. After all, you are a real pilot!
You can try to destroy any building or car, attack the base or land. Refill – it's not as easy as on a car! Here you will definitely not meet a boy refueler.
Destroy, research, learn to drive and feel like a full pilot with the Carrier Helicopter Flight Simulator!
Are you already excited? Ready to conquer heights? Ready to save lives in emergency situations? Or do you just want to relax and shoot at buildings? In any case, choose a simulator to your liking, put it on your gadget and go to the sky for adventure! The main thing is not to start spinning dizzily.
You can also check: 7 Best First Person Car Racing Games for Android & iOS