If you have an iPad and don't use for watching movies or TV-shows I don't really know why you have it! An obvious advantage of a bigger screen is that it is convenient to watch videos on it wherever you are – on a train, on a bus, in a queue, in your bed. So, go through the best iPad movies apps situated below, download the ones you like most, and enjoy!
Hotstar
Hotstar is another application for viewing content on iPad and iPhone. There is no need to buy the app itself – it is a completely free streaming service that allows you to watch movies, broadcasts and shows even while on the road.
A special section of the service is sports: sports broadcasts of sports matches and championships, competition tracking – one of the most convenient for fans. Hotstar even gives marks when broadcasting live!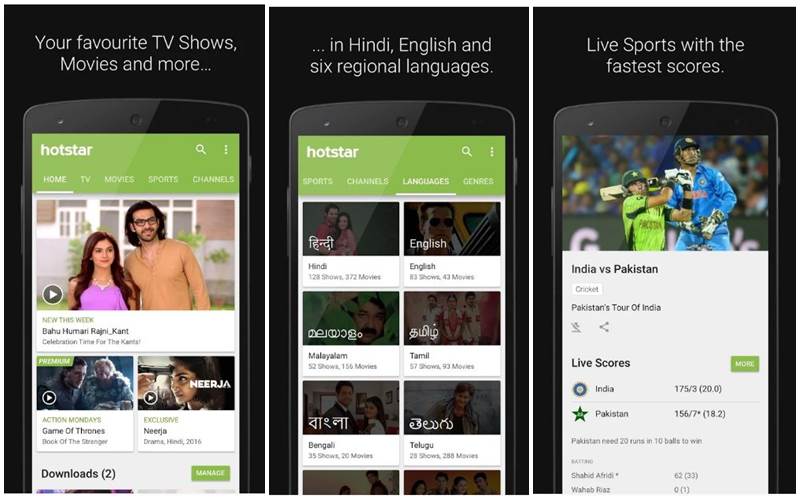 There are 2 packages available in the app for purchase: VIP and Premium. VIP-status gives you access to the series Star before the ordinary viewers – that is, before they go on TV, as well as unlimited access to sports broadcasts of Formula 1, big tennis and much more.
In addition to all of the above, you can watch special shows and shows shot specifically for VIP accounts. Premium status includes all the features of VIP clients, as well as free viewing of American shows, TV shows and Hollywood blockbusters.
The obvious plus of Hotstar is that you can download content for viewing without a network connection. As long as you have a good internet connection, download your favorite movies and shows and enjoy watching them anytime, anywhere.

back to menu ↑
Netflix
Well, who hasn't heard about Netflix? It is probably the most popular source for watching movies online. And yes, there is an iPad app that has all the inherent features of the source. Netflix features original TV-shows, documentaries and other types of movies. There is a truly large choice of acute in-demand films.
Good news! There are no ads. Bad news! You gotta subscribe and then pay monthly or annually for the subscription. The first month of trial, though, is free. And you can cancel your subscription whenever you want to.
Netflix is an awesome platform because it is able to give you recommendations according to your watch-history and according to your preferences. The more you use it, the better it gets at adapting to your taste. Just like YouTube. Be careful though! – don't forget to broaden your horizon now and then. Otherwise, you'll get stuck in your cute little world of familiar genres.
So, if you don't want to spend your precious time watching ads and want to be able to watch fresh and interesting stuff that is on everyone's mind, this is your best option!

back to menu ↑
Google Play Movies and TV
So far we've overviewed the apps that are either free or have monthly/annually subscriptions so that you could watch movies without ads. This one is different. Google Play Movies and TV works in the following way: all movies are sold separately – one by one. So, for example, if you want to watch a movie that has come out recently, you need to pay a lot, less than in a cinema probably, but a lot. If you're looking for an old movie, you'll find that its price that is considerably less.
The app contains lots of movies – most of them are popular ones or the ones that are used to be popular. Why download a Google app on iOS? Well, there is a reason – for example, if you have a Google Play account with all the movies bought there, you can easily log in on your iPad to continue using your purchases, the wish list, etc. However, even if you don't, the app might be useful for you all the same (all you'll have to do is to get it). Ain't it cool to be able to get fresh movies that have just appeared in cinemas?

back to menu ↑
Pluto TV
Pluto TV is one more free apps for watching movies. Besides the movies, there are also over a hundred live channels that you can watch anywhere and anytime!  – of course, if your internet connection doesn't suck. The channels are diverse – there is something for every taste: news channels, sports channels, even anime channels. As for the movies, about a thousand movies collection consists of big names – movies produced by famous studios like Paramount, Warner Brothers, and others.
back to menu ↑
Pluto's rating is really one of the best among such apps. It is one more reason to try it! Why not after all? The app has an amazing functionality.
back to menu ↑
JustWatch
We've all been there. The number of services and apps and websites that offer their content is overwhelming! How to keep track of what's really important to you? JustWatch offers an excellent solution to this problem. With this app, you can track your favorite movies and shows without googling and listlessly looking through your search results. The app does not stream movies and does not even offer them for downloading, but it performs a much more requested function – it collects all the information connected with movies both online and those that have been introduced in cinema.
You can learn where and when to watch that movie that you have so long been waiting for. You can find out info about new shows on Netflix and similar services. And, finally, you can just scroll through an enormous database of the app in order to find movies and shows you'd like to watch and then add them to your special list.
A nice bonus is price drops alerts. So, if you want to be movies-savvy – always knowing what to watch, where to do it, and what is the best offer in your city – leave any doubts left and get this app! It is free after all.

back to menu ↑
Yidio
Yidio is one more TV-show and movie guide that will help you to track your highlights. First, you make a personal wishlist of movies and TV-shows you'd like to watch and then the app will tell you where to watch them, how much it would cost or would it cost at all. There are over 100 sources supported by Yidio. Just enter a name and the app will give you all the necessary info.

More than that, the app will keep you updated on all the recent news about your favorite shows and movies as well as give you personalized recommendations based on your watch history. So, if you tired of jumping from one service to another to learn what's new, make your life easier by getting this app!
back to menu ↑
Popcornflix
Popcornflix is a true discovery for any cinema lover. The app has hundreds of independent titles. You can search movies by name, by actor, or by genre. Comedy, drama, documentary – whatever you prefer – you'll definitely find something worthwhile.

The app is free to download and the movies are all free to watch. There are no new blockbusters, however new movies (like not brand new, but new for the app) are added every day. So, if you don't mind watching old stuff, Popcornflix is a very good choice.
back to menu ↑
Viewster
Veiwster is mostly for anime lovers. If you are keen on Japanese animation, this app is a must-have! The app offers a large choice of anime both classic and new ones. New anime is added all the time. Fresh series appear right after their release in Japan. Besides anime, the app also contains some rare movies that you are not likely to find in other movie streaming apps: old documentaries, original horror films, and original thrillers.

You don't have to be subscribed in order to get access to all of these goodies. However, if you want a watchlist, the subscription is necessary – as always. So, are you ready to immerse yourself in the world of anime? Then go to the App Store right now!
SnagFIlms presents a huge collection of movies – about 5000 independent titles – all of the different genres and all accessible in full-length. The number of genres is huge. There are
back to menu ↑
Tubi TV
Tubi TV is one more app that can offer lots of different movies in lots of different genres. The app contains about 40 categories including 'Not on Netflix', 'British TV', 'Korean dramas' or, for example, 'Highly Rated On Rotten Tomatoes'. Everyone can find the necessary content.

The app's advantage is that it can be easily synced between devices – and not just Apple's ones, but also Roku, Xbox, Amazon. So, if you are up for diversity, this is a great choice!
back to menu ↑
Watch ABC
ABC studio has its own app for streaming original series. With it, you can watch full episodes of your favorite shows using both iPad and iPhone. There is no doubt that iPad is preferable – you don't want to ruin your eyesight after all!
The app also has special highlights so that you could discover new shows more easily. There is also live TV, so if you don't want to miss anything important like the NBA finals, for example, you can watch it on the go.

All in all, this is more of a TV shows app that features materials created by ABC. If you like ABC, why not to get their app?
back to menu ↑
Viki
If you are tired of western entertainment, you may try to switch to something else – something new and unusual, like… Asian entertainment! Viki is the app that includes a lot of Korean, Chinese, Japanese, Taiwan movies and shows. Are you keen on K-pop? This one is for you!
New movies and shows are added all the time and most of them – with subtitles. The subtitles are created by fans of the genre – it is possible to find them in over 200 languages. The app enables you to communicate with other users just like you, which is, of course, cool, because if you have an interest in something unpopular, it may be hard to find like-minded fellows.
The app is free but it is full of ads. If you want an ad-free version, you can buy a premium. All in all, the world of Asian movies is waiting for you!

back to menu ↑
Plex
Plex is an app that can help you to access all of your media libraries including videos, music, and photos in one place. If you like to keep things in order, why not to organize your digital space as well? Easy access will make you enjoy the content more and search for it less.
Since we're talking about movie apps, Plex here is for another reason – far from its organization function. The app gives you an access to hundreds of podcasts, mostly news ones from such sources as CBS, Financial Times, Euronews, and others. As for the movies, they're there as well. More than that, you can watch and even record broadcasting movies, programmes, TV shows.
So, this is quite a thing! Not only does the app keeps your mind clean by presenting media in a handy way, but it also increases your opportunities to get new media. You are welcome!

back to menu ↑
Flixster
Flixster is not for streaming movies, it is for finding the movies you like. The app is extremely helpful in searching for what to watch. It contains information about shows nearby, timetables of your favorite movie theaters, prices, and so on. Besides, the app is full of movies descriptions, trailers, reviews, and other useful information.

If you want to know the recent news about the cinema world, this one is definitely for you! And if you are always out of ideas for what to watch, definitely get this one!
back to menu ↑
SnagFilms
even such categories as gay & lesbian movies and international foreign movies. So, you'll surely find something that suits your taste.
Just one more movie app for iPad to diversify your choice!
back to menu ↑
Sony Crackle
Sony Crackle is a great app to watch movies on iPad. And not just on iPad – the app can also be used on iPhone or Apple TV. By the way, if you are interested in apps that can stream on Apple TV, check out this article: 8 Best Free Apps for Movies and TV Shows on Apple TV.
This app features such genres as comedy, drama, action, and others. The highlight of the app is blockbuster movies. New movies are added all the time so don't worry – you'll always be able to add something new to your watchlist. By the way, if you want a watchlist, you gotta log in. If you don't though, you can use the app without a subscription.
Recently, the users have been complaining about too much advertising, however, this is the cost of being free & not requiring users to subscribe. So, if one or two ads now and then don't bother you, try this one! Crackle has a lot of good stuff to discover.
---
That is it for the best iPad movie apps. I hope you liked this article! Enjoy watching movies & be smart in choosing apps.