Nowadays it`s become easier to find a good podcast and listen to experts talking about different topics. There is a huge number of mobile applications that offer hundreds of podcasts on different topics: education, politics, news or comedy shows. 
All podcast apps offer advanced playing tools like playback, sleep timer, volume boost, etc. Below there is a list of 15 best podcast apps for Android and iOS. Choose one for your liking.
Google Podcasts
Google Podcast is a new podcast application released by Google in 2018. The user can search for any podcast directly from a Google Search App and add it to your list of podcasts. The app will help you keep track of episodes you were listening. Thus, you can always continue listening to your favorite podcasts from the moment you had made a pause.
Google Podcasts syncs across all your devices so you can make a pause on one device and continue listening on another. It also a must-have application for those who have Google Home Speaker.
You are able to listen to podcasts using the internet or download them to playback later. The design of the app is classic and particularly reminds the Google Search app.

You can also check: 22 Best Radio Apps for Android & iOS
back to menu ↑
RadioPublic
RadioPublic is a podcast application available for both Android and iOS devices. It offers a huge selection of podcasts with constantly featured new episodes. There are many different features in the app that you will find very handy. You can listen to podcasts at any moment whether online or download them to listen later.
There is an additional tool in the app that helps a user find a specific episode in a whole podcast through a search engine. Just type a keyword related to that episode.
The developers added the speed fastening tool to accelerate podcast playing speed in case if the sound is too slow. Another significant feature is a HearMark that you can add to the episode at the moment you stopped listening to get back to it later.
back to menu ↑
Castbox
Castbox is a podcasting platform for Android and iOS devices for free with an available premium package subscription. It was announced as A Google Play Best and Android Excellence App in 2017. It is equipped with a powerful search engine with the ability to use keywords or phrases to search for an interesting podcast.
The app has millions of audio podcasts sorted in 16 categories. You can choose different podcasts, subscribe it, download episodes an listen to them at any time. There are many famous podcasts channels like TED, PRX, CBC, BBC, etc. The number of episodes is constantly increasing and you can follow freshly featured episodes.
The Castbox app has all the necessary features. It offers nice design, user-friendly interface, speed and volume tools, playlist creating and customization. You have to create a profile to be able to join a community of app users, where you can share your podcasts and write reviews about them.
The app integrates well with speakers like Amazon Echo and supports over 70 different languages.
back to menu ↑
Podbean
Podbean is yet another great multifunctional podcast application with high rate and thousands of downloads. It has all the necessary features and more than 300 thousands of different categorized podcasts. Be on time with the latest news, learn new things in the education section or have fun with comedies and chats.
What can you do except listening:
Search the episode or whole podcast with its name or name of the author.

Follow different podcasts to monitor new releases and have

Download episodes of your favorite podcasts to listen to it later

Customizes playing: sleep timer, volume boost, Intelligent sleep.
Settings section has lots of different functions like automatic downloading, automatic playing next episodes, screen rotation, etc.
The design of the app is simply perfect and the interface is user-friendly. You won't get lost in the app and will be familiar in a few seconds. Luckily it had been developed for both Android and iOS.
back to menu ↑
Castro 
The Castro app is unique with its list of podcasts that you can create by your own and play in a special queue. Simply drag and drop podcasts in the order you want to listen to them. New podcasts will be shown you regularly with complete description.
The app has respectively nice design in day and night modes.  A free version of this app is a feature limited. The developers suggest Castro Plus with 12.99 $ per year which one week trial you will have after downloading the free version.
Castro Plus main significant features:
Silence control: the app will detect gaps in the audio and accelerate playing those parts to skip them.

Volume boost. In loud environments you will not suffer from low voice playing as the app will increase the sound automatically.

File import. Add files in iCLoud Drive directly from the app.
Definitely Castro Plus is a more advanced version of the app but it's optional and a free version can be just fine.
back to menu ↑
Podcast Republic (Android)
Podcast Republic has a collection of more than 600 thousand podcasts and shows. that of course not the last number and updates are constantly happening. The app syncs well with Youtube channels, Sound Cloud Channels, RSS blogs, Radio, etc. The interface is very convenient and user-friendly. You will always have easy access to downloaded files as well as you can see the list of deleted podcasts.
With this app:
You can create different playlists or subscribe to different channels.

Discover different topics: art, education, news, science. Check what is more popular among other listeners.

Playback at any time and speed up/ down a podcast playing.

Customize the sound in an equalizer.

Customize skipping the sound gaps or beginning/ending of the podcast.

Shake the phone to manage to play without opening your phone.
Unfortunately, the app is available only for Android devices.

back to menu ↑
Podcast Addict
Podcast Addict app can be considered as one of the most comprehensive podcasts apps for Android devices. It featured with all necessary tools that make the app easy and pleasurable to use. As well as all standard podcast application Podcast Addict will let you stream or download shows to listen later, improving the playing characteristic of podcasts.
Podcasts addict has an advanced search engine that let you find a specific episode or a whole podcast. You also can set the app to download new episodes as well as to delete some episodes automatically to save space on your device.
The app support playlists creating, playing features like shuffle mode, sleep timer. Subscription for particular podcasts includes new episodes automatic downloading in a particular time. Listen to the stories, news, shows, and lectures free and become a literal podcast addict.

back to menu ↑
Stitcher
Stitcher is quite popular well-organized podcast app with a great collection of different podcasts, show and radio channels. There are about 200 thousands podcasts that are sorted in different categories. Each keen listener can find a topic for himself: real crimes, comedy shows, science or art discussions.
To start using the app you need to sign in with an e-mail or via Google, Facebook accounts. You can search for podcasts and listen to them at a moment or download it and play whenever you are free.
Stitcher can sync with your car. It integrates with many different models such as Mazda or Ford. This way you can safely commute listening to your favorite podcasts or radio.
Of course, you can playback and speed up playing.
The free version is filled with advertisements. Premium version can let you enjoy the app without ads and will offer special Premium podcasts.
You can also check: 7 Best Trending music apps for Android & iOS
back to menu ↑
BeyondPod
With the Beyond Pad podcast app, you can browse hundreds of podcasts for free. You can find small local radios or big ones with famous names like BBC News, CNN, BBC. The free version has limited number of podcasts. To unlock all you have to subscribe for a premium version. "Lite" version will all functions will be available for you for 7 days trial.
Main features:
Podcasts sorted by categories and publishers. There is a section for international podcasts and recommendations according to your previous preferences.

All the necessary tools are built-in: volume boost, playback speed, sleep timer.

You can skip parts you are not interested in or replay parts you want to listen again.

You can create different playlists according to your mood or circumstances you are in at the moment.

Set the automatic update for selected podcasts or for all list.
Users of Android devices can enjoy using this podcast app.

back to menu ↑
Spotify
Spotify has just recently become free for iOS and Android with advertisements. Besides podcasts, it has a huge collection of music. Spotify doesn't work as most podcast apps but many people like it for a big variety of music, albums, podcasts, and videos.
Spotify has a stunning classic design and user-friendly interface. You can also choose a playlist suitable for your mood or create your own playlist and add tracks there.
In a free version, there is no download function. You can only have it after purchasing a premium version. You will have an ads-free app as well. Premium version starts from 3.99$ a month.
Podcasts, as well as music, are categorized into categories such as Comedy, Sports, Storytelling, etc. Those who have nothing against listening to music, as well as podcasts, will find Spotify a good solution.
back to menu ↑
Overcast
Overcast is a simple podcast application with all essential and significant functions for all kind of iOS devices. Despite the excellent and modern design, the app has various handy tools like Voice Boost, Smart Speed and Smart Playlists.
Voice Boost stabilizes the sound of audio lowering loud voices and raising quiet voices without audio distortion.
Smart Speed speeds up the audio playing cutting sound gaps and silences. So you will receive a stable audio track without even noticing that such silence intervals existed.
Smart Playlists includes playlist customization and list rearrangements where you can change a playing order of your podcasts.
The app also will send push notifications to inform you about the next episode of your favorite podcasts. The free version of the app is filled with advertisements that can be removed with 9.99$ a year Premium version.
back to menu ↑
Pocket Casts
Pocketcasts is one of the most popular podcast applications available for both Android & iOS. Many people have been listening to this podcast app for many years not switching to any other apps. Pocketcasts had been granted many awards such as Google Play Top Developer and Editor`s Choice.
Main features:
Podcasts can be sorted by episode length.

Cut silence from episodes so you can save some time. You also can skip episodes intros.

There is an option to change play speed up to 3 times.

The app has an intuitive interface with well-organized lists of podcasts.

The app has a stunning colorful design and build-in different themes.
Definitely, you will enjoy using this handy application.
back to menu ↑
Player FM
Player FM is highly advanced podcasts with lots of features that each user can be captivated by. The developers claim that the app is free without advertisements but you will be suggested with in-app purchases.
Main features of the app:
All podcasts are categorized in a lot of themes and genres: comedies, drama, education, speculation, and chats like Oprah show.

Users can download podcasts to play it later and set automatic deletion of already played podcasts.

User can subscribe to the particular podcast or individual shows and receive notifications about new releases.

Speed function, silence skip, and volume boost are to accelerate playing and enhance listening.

Colored and dark themes are to break a routine and personalize the app look.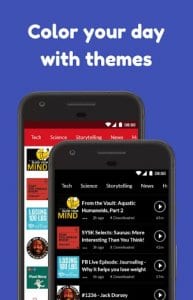 The app has a built-in sleep timer. Imagine that you are listening to your favorite show in bed at night with a high possibility to fall asleep. Set a sleep timer and the app will fall asleep with you or a bit after you. In general, the app deserves high marks and to be downloaded.

back to menu ↑
DoggCatcher
DoggCatcher is an Android application with lots of podcasts in audio and video formats with various features can be a great choice for high standard lovers. It costs 2.99$ and gives you access to all features at once without any ads.
Features of the app:
Audio and video podcasts divided into different categories.

Play podcasts using a network or download it to listen in any plaсe and anytime.

Playback function, speed up the speed, sleep timer and sound boost.

Customization of podcast auto-downloading and auto-deletion.
DoggCatcher is a nice app that people use constantly due to its nice comfortable interface, magnificent design, and various features. The fee isn't that high to pay once and in result, you can get a great handy podcasts app.

back to menu ↑
RSSRadio
RssRadio is a free application for iOS devices that exist since 2010 and continuously developing gained enormous popularity. It includes not just audio but also a video podcasts. Though the developers added a possibility to live audio sound and not to play a video to reduce the power consumption of devices.
The app is advanced with a lot of different features:
Silences in the podcasts are being removed to save the average listening time.

There are a built-in equalizer, compressor and volume booster in the app.

There an enormous directory of podcasts where you can search a specific topic or podcasts by keyword or category.

User can stream or download any size podcast, create a playlist and categorize it for your liking.
The application is offered for all kind of iOS devices that can be sync together. It's free to use with in-app advertisements that can be removed with 3.99$.