High-intensity interval training, including Tabata (20 seconds of exercise, 10 seconds of rest), as well as circuit training (mixing different types of workouts), are extremely good at improving both aerobic and anaerobic health. Such efficient types of training, however, require observing time, which can be a bit problematic… without the right app!
With one of the apps from the list below, you won't need to worry about time – a workout timer app will do this part for you so that you could concentrate on what's really important – exercising! So, check the list, choose the app you like most and enjoy your training!
Note that first come the apps suitable both for iOS and Android, then only for Android and then only for iOS. You can click on the category you're aiming for in case scrolling down is not an option!
for Android & iOS
Tabata Stopwatch Pro

Tabata Stopwatch Pro is one of the best interval workout apps both for iOS and for Android. Despite the fact that the app is almost completely free, it contains a huge amount of useful features! You can use it for HIIT, kettlebells, running, bodyweight exercises and a lot more.
This is how the app works – you hear different kinds of beeps that warn you of when to start your training and when to pause it. There is also a voice guidance, so if you don't want to rely on some beeps, you can choose this option instead. For some sports, it might be convenient that the colors of digits showing rest time and workout time are not the same, so if you wish, you can rely on your sight instead of your hearing.
There are many other cool features this app has to offer, like counting burnt calories, recording time or uploading a music playlist. Add to this a modern minimalistic design and here it is – the perfection! However, not everything is so easy. TSP has got two significant limitations which can be removed only by making in-app purchases.
The app allows you to customize such pre-settings as workout time, rest time, warm-ups, but you can't save all of these in order not to waste time on repeating the customization process over and over again. The other limitation concerns using the app with a locked screen – this one makes the app with no purchases practically unusable if you want to use it for running, for example.
Luckily, there are many separate apps for runners that have not only got interval training mode, but also many other cool features. Check this article to find out more about these apps: 25 Best Running Apps for Android & iOS 2017.
As for TSP, this is a great app and if its limitations don't bother you or you are ready to pay for removing them, download the app right now! If not, below there are many other options for you!
Seconds – Interval Timer for HIIT & Tabata
Seconds is the last app on our list that comes both for Android and iOS. The app boasts about being the most advanced one out there. And really, the features are quite impressive. This one, unfortunately, also has that limitation on saving your timers. The in-app purchase allows you to even import and export timers for training, but if you don't want to spend your money on that, you have to go only with ready templates. The good thing though is that the app has these ready templates! In fact, not just one or two, but for all kinds of interval workouts – HIIT, Tabata, Circuit.
Among other advantages of the app are a nice clear interface and a possibility to assign music to each interval. So, download the app, check if its intervals suit you and enjoy! If they don't though, there are plenty of other apps down below!
back to menu ↑
for Android
Tabata Interval Timer for HIIT
Tabata Interval Timer for HIIT is an amazing workout timer app for Android. The app is more than just a timer – it allows you to create personal lists of exercises. You can set up lots of kinds of intervals like prepare, work, rest, cool down and so on. While setting up work time, it is possible to choose what kind of exercise you're gonna do.
One of the app's biggest advantages is a clear interface with huge digits and different colors for different intervals. The app has got 40 sounds to remind you of when an interval is over! And you can use voice reminder as well. There is a premium version – you can check its features right in the app, however, if you need a basic timer with extended settings, this one is perfect even without buying a premium!
Interval Timer
Interval Timer is one more good-looking workout timer app for Android. The app is pretty simple, but it does its job fine, what else can a one need, right? There are all kinds of interval training – round timer, circuit timer, HIIT, Tabata… The settings are easy to change and in general, the app leaves quite a nice impression.
The only problem is ads – in order to display ads the app needs an Internet access, so it doesn't work without Internet at all, which is a bit frustrating. Apart from that, this app is certainly one of the coolest! If you need something simple, you have found it!
My Tabata Timer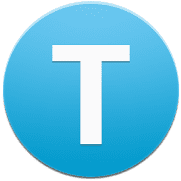 My Tabata Timer is an alternative to the two apps above. This one is also simple & easy to use! Here is how it works – you just tap to start, tap to stop and long tap to restart. Easy! If you don't like sounds of the app, you can tap 'mute' by going to settings (upper right corner).
The settings themselves are okay, even more than just okay because, apart from all the usual intervals customization, you get to choose colors for your timer. The colors, by the way, are nice and warm, very eye-pleasing. So, whatever fitness activities you are planning to do, this workout timer will most certainly suit you! All the rest is a matter of taste.
Tabata Timer
Tabata Timer is a name that speaks for itself. However, there are not only traditional Tabata intervals (20 seconds work, 10 seconds rest) – you can set any intervals you want to. What's more, you can choose a number of sets you'd like to do and preparation time.
This app may not look as fancy as the other ones for Android, but it has certain features no other app from those above can boast about. First, you can choose background music and, second, you can track your workouts as well as your weight right in the app! Viewing history can be quite motivational. So, if the old-fashioned design and some ads above the screen don't bother you, this is a nice option to consider!
back to menu ↑
for iOS
HIIT & Tabata – Interval Timer
HIIT & Tabata app is a simple and absolutely gorgeous interval workout app for iOS that is perfect for intense workouts. This one doesn't differ much from the rest of the apps – it also has intervals customization, choosing a number of sets and all that stuff. What it also can do though is to measure your heartbeat (in case you have a special device for that) in order to detect intervals that are best for you at a certain stage of your workout plan.
As you might have guessed, the app comes in two versions. Going premium gets you rid of ads and opens access to some advanced features. So, download this beautiful app right now and see if it suits you!
Intervals – Workout Interval Timer
Intervals is a perfect interval timer app for all the types of iOS devices and for all the types of interval work. You can use it not only for workouts but also for many other things, such as yoga, meditation, pomodoro method, etc. The app allows you to customize all of the exercises you are planning to do – you can choose a name for each one, a length, a color – all of that will then be displayed (of course!).
The app is integrated with Apple Health, so if you have an Apple Health device you can check some of the characteristics you had during training. These characteristics will also be saved for history so that after some time you could see the progress you've made with interval workouts! Get the app today and enjoy your training!
Timefit – Interval Workout Timer
Timefit is another great app for interval activities – it can be used for anything that is time-limited. The primary goal of the app though is making workout programmes. You can set intervals, change them, change sets and all that kind of stuff. You can also customize the look of your timer and organize everything in the way you find most convenient. One nice addition is an embedded stopwatch. Just in case! Get the app, so that you never have to worry about time again!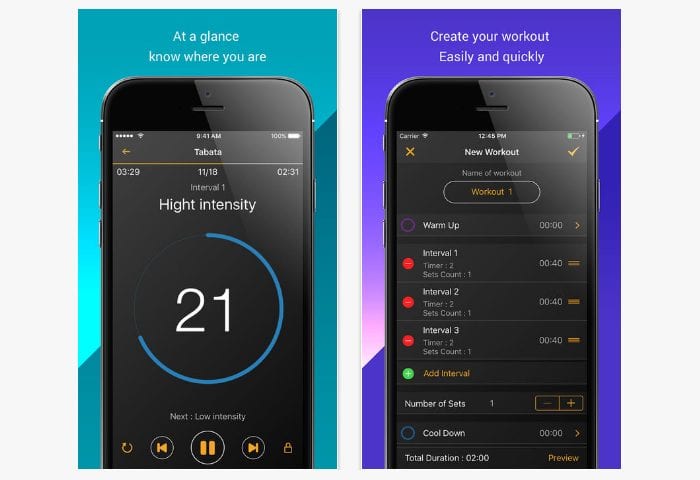 Runtastic Timer App

Runtastic Timer App, unlike the app above, doesn't have any problems with pre-setting workout intervals, saving them and then repeating over and over again! You can choose workout & rest periods, sets & preps – all that is usually needed for a Tabata, HIIT or circuit training. The app can be used for lots of different fitness activities –  running (obviously), kettlebells, spinning, bodyweight exercises – in sum, all that might require interval training.
Runtastic gives you voice notifications of when to do what, so you'll have to try very hard to miss your workout time or your rest time! There are some very cool features connected with music – you can choose songs separately for each interval and you can even choose volumes of these songs separately for each interval. The app is free, so you can download & try it anytime you want to!
Currently unavailable
Quick 4 Minute Workout
Quick 4 Minute Workout is perfect for those who wanna keep in shape despite having busy days at work or at studies. The app is based on the already mentioned Tabata method – it guides you through intervals of exercise and rest. You don't need to have any special equipment to accomplish this training – just two arms and two legs and you're all set to go!
The free version of the app contains not much – just a training actually. But if you go premium, you get to use lots of useful features, such as pieces of training provided with sounds and/or voice, viewing your progress & history, watching HD-videos that explain how to do certain exercises. So, get the app to make your working routine a bit more active!
If you like the idea of this one, you'll probably love the apps on this list as well: 15 Best Workout Apps For Android & iOS.
Currently unavailable
Those were 11 best interval timer apps! May you have productive & enjoyable workouts; choose apps wisely and stay tuned!