Are you waiting for something new in your life? Maybe there is going to be your birthday, an important exam or a date with your crash. Whatever it might be, you are counting down the days or even hours before the event.
How to do it effectively? One option is to write everything down in your notebook. Still, it is a bit outdated and sometimes impossible.
Another nice option is to use a good countdown app, which you can find right here. The apps mentioned in this list are available for Android and iOS. Use these epic tools to make the countdown comfortable and easy.
Most of the apps are free with ads.
Countdown Star
Do you often get completely lost in your own schedule? Sometimes we all do. This is why it is necessary to get good assistance. Countdown Star will be a perfect tool for doing this.
You can create any countdown you need, be it an anniversary, wedding, birthday, or just a meeting with a friend. Countdown will carefully keep all your data and remind you about the appointments.
Each event can be customized the way you want. Use your wallpaper and photo. If you are planning an event with a group of people, make sure you share the even with them.
Countdown Star is free. It is rated 4.7 out of 5 in the App Store and 4 out of 5 in Google Play Market. This is the most reliable countdown app.
You may also like: 11 Best drink Water Reminder apps for Android & iOS
back to menu ↑
Countdown
This is an extremely epic countdown app. Even though you can hardly use it for planning an event (unlike the rest of the apps in this list), Countdown will tell you what nobody can.
Are you brave enough to know the date of your death? If yes, download this app and find out. This is a great chance to know when something will happen.
So, as you might understand, this is not a planning app. A Countdown can tell you (actually it randomly picks the dates and the numbers it shows, but anyway) when a different type of things is going to occur.
The app is based on the movie "Countdown", where the characters
We obviously would never recommend this app for children, as its content and the idea of Countdown itself might seem disturbing. But if you want something fun and a bit scary, feel free to use it.
Countdown is available for iOS, as well as Android users for free.
back to menu ↑
Big Days – Event Countdown
There are some events that play a huge role in our lives. And, therefore, we can not forget about them. Still, it's easy to lose yourself in a daily routine, which is full of distracters and white noise, especially now, in the 21st century.
That's why you need a reliable reminder, which will never forget about your relatives' birthdays, anniversaries, or any other important family activities.
Big Days is one of the best apps in this category. It is rated 4.6 out of 5 in the App Store and 4.5 out of 5 in Google Play Market.
The app is one of the most reliable, as there are no bugs and technical problems. The feedback that Big Days receives every day is mostly positive.
Big Days is free with adds. The app is available in Google Play and App Store.
back to menu ↑
Event Countdown
This is one of the most popular calendar apps. It has been downloaded by thousands of users.
You can create an unlimited number of countdowns. You don't have to keep all the details in mind. What is more, you can also add notices to the planned events, so that you don't forget important things.
There is a flexible system of notifications. You will be reminded of the upcoming event a week before it is supposed to happen. Then – 24 hours before the event. Should you need any additional notification, you can always create it.
You can share an event on various social networks, such as Facebook, Twitter, Instagram, via email, or SMS.
Event Countdown is free. Still, there is also a premium version without ads. In the premium will find more than 400 color icons and detailed notifications.
Event Countdown is available for iOS, as well as Android users.
back to menu ↑
DayCount
This is another great countdown app, which is famous for its unique design. In terms of the functions, DayCount is a typical calendar app, but its interface is much more friendly and beautiful.
It's dark, which makes it so magical and relaxing.
In DayCount you can easily organize all of the upcoming events, as there is an option of sorting them into categories. Infinite number of various events is available for you.
All the info is presented in the form of widgets, which is very comfortable. This feature makes the events easier to find.
Another nice feature is that you can synchronize the app with your Ipad, iPhone, or Ipod. All sorts of notifications are available in the basic free version of the app.
DayCount can be downloaded from Google Play, as well as from App Store.
back to menu ↑
iDays – Elegant Countdown
This is one of the best apps, one of the most reliable ones. iDays is rated 4.8 out of 5 in App Store, which is a very high ranking.
iDays is packed with useful features, such as:
 Unlimited number of events to create
 Beautiful covers for each of the events
 Notifications
 Count down or count-up to the most important events
 Dates calculator
You can share all the details of the event on social media, such as Twitter or Facebook. There is also an option of sending invitations via email.
The app supports many gadgets, such as iPad, iPhone, or Apple Watch.
iDays is available in App Store only. It is free of charge.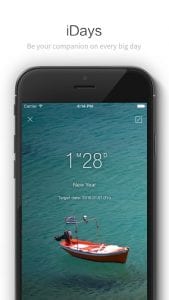 back to menu ↑
Countdown!!
This is another nice and well-designed calendar and timer app. We can not say that it has any specific functions, only the basic ones.
All the information about your events can be sorted and classified so that you can easily find what you want. The info is also presented in widgets.
Attach photos to the events to make them unique. There are 5 filters inside the app. You can use your own background photos to illustrate the upcoming events and their widgets.
Countdown!! is free with adds. Unfortunately, this app is available in App Store only.
You can also check: 11 Must-have Emergency apps in 2020