Are you a regular lottery ticket buyer and seem to fail to keep track of each and every ticket you are buying? Well now don't worry because the lottery apps got you covered.
These apps will show you all the lottery results based on worldwide lottery games such as Lotto, EuroMillions, Thunderball, Powerball, Mega Millions, Irish Lotto and many others. Lottery result checker apps will also automatically check your lottery numbers and give you the guess about the next winning numbers. There are also many other interesting features in these lottery apps.
Here's the list of best lottery apps for Android and iOS users.
Give a try to these apps that can potentially make you a rich person.
Lotto Results
Lotto Results is a one-stop mobile application that offers lottery players in the United States everything they need to know about the latest results of any given lottery draw.
This app allows you to select up to ten states as their pre-defined defaults and allows easy changing between them to see the lottery results from a specified state. That means that you will never ever have to spend your time searching through the lists of states for any results you want to see.
You will have the ability to set up pre-defined states that can be done in a matter of seconds by simply clicking on the location tab at the top of the app and selecting 'New Location'. Using this app it is also very easy to find find the state that is required and tap on its name to add it to the list of defaults.
Lotto Results app covers a wide array of lottery results from 47 states across the United States. It includes popular lotteries such as Powerball and Mega Millions and also supports local lottery results such as Triple Twist, Lucky for Life, and Cash 5.
The app uses a simple and neat app design. Everything that you may need is available through the menu and allows easy access to what you are looking for.
All the adds in the app are small and can easily be closed by tapping on the "Close" button.
To sum it up, Lotto Results does everything that you might expect it to do. So, if you are looking for a great lottery app that provides up-to-date US lottery results without any hassle, you should give Lotto Results a try.
Price: free
You can also check: 11 Best random generator apps for Android & iOS
back to menu ↑
LOTTOPIA – Decode The Lottery
Lottopia is an all-new lottery information app set to provide services to Powerball and Mega Millions of players in the US.
This app provides a variety of basic functions that streamlines and enhances the way players engage with their favorite national lottery games. Its features include real-time results updates, analytic reports regarding draw history, and the ability to scan tickets into a personal database.
The app will also notify you about all upcoming draws and calculate the value of tickets once the results are posted.
The newest version of Lottopia also boasts a suite of utilitarian features to help play the lottery. The app allows you to add tickets which will be stored in a personalized database. A live countdown timer indicates the time remaining until the next draw.
Lottopia generates numbers basing on historical draw information. The number of combinations generated by this app gives players a statistical edge. For example, Powerball's winning Jackpot odds currently sit at 1 in 292,201,338.
You also have the ability to study analytic reports to search for interesting patterns and combinations and read the news stories for a little motivation to take part in the next draw.
In short, the app has a little bit for everyone who enjoys playing the lottery, so it definitely worth trying.
Price: free
back to menu ↑
Paddy Power Sports Betting
Paddy Power is a mobile app that is one way through which the giant online casino called Paddy Power reaches its customers and players.
With the same green, a white and yellow color scheme of the online platform, the Paddy Power sports betting app is striking whilst remaining intuitive and easy-to-use.
This is a great live betting app that enables you to make in-play bets on the go. The app also contains one-touch betting. This means that you can make any bets in one touch, simply by tapping the odds of the bet of choice.
The homepage of Paddy Power has a banner that contains links to a popular bets section, in-play betting and next races across the center, with popular sports and games listed along the top. It also contains upcoming highlights, popular events, and current promotions.
Moreover, the app gives you access to all the offers via the promotions tab and they are sorted by sport. Once you're in the section for a specific sport, the day's special prices or enhanced odds bets will be shown at the top of the page, with the option to open the tab to show the rest of the specials.
Paddy Power does offer a Cash Card Plus which is directly linked to your Paddy Power Palace, so you can withdrawal money straight from ATM's.
The whole feel of Paddy Power is user-friendly. There's a lot going on on the screen, but there is enough of a relaxed feel about it so you can actually enjoy it all.
So try this app out to will find a great betting experience.
Price: free
back to menu ↑
LUCKY NUMBER 7
Lucky Number 7 is a unique random number generator that allows you to quickly and easily generate random number sequences to play in your favorite lottery.
The first step to generating a unique number sequence is to select which of the supported lotteries you would like the generation to run for. This can be done by tapping on your selected lottery's name using the tabs located at the bottom of your screen.
Once you have selected you will need to tap on the New Numbers tab so the app can display a totally unique selection of lottery number balls at the top of your screen underneath the heading Lucky Numbers.
Lucky Number 7 has a great randomization algorithm is a hallmark of the best lottery apps. The latest results from both the US Powerball and the Mega Millions of lottery draws are also included in the app.
You have the ability to tap on the logo of your chosen state lottery and wait for the app to launch your device browser and navigate to that lottery's official website. The list of lotteries contains all the US states lotteries and allows you to select which one you would like to view.
Try it now – you won't be disappointed.
Price: free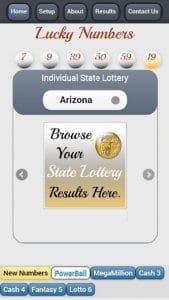 back to menu ↑
SpinToWin Slots & Sweepstakes
SpinToWin is a free sweepstake and scratcher app that can give you free chances to win real cash prizes in daily, monthly and quarterly giveaways.
The app allows you to enter sweepstakes for a free chance to change your lifestyle and join the many winners who have won money.
It contains many games where you can win up to $10,000 of the grand prize.
SpinToWin enables you to win the real money in two daily and weekly and Grand Prize sweepstakes drawings that offer real cash and amazing prizes. It is a 100% free app that offers you good chances to win cash.
Everything on offer is equal in terms of feature usability and user experience, and the only real distinction between them is the amount of cash you can win.
Each day when you open the app, you will be presented with an entirely new selection of scratch cards, raffles, and a new daily lottery draw. Cash Scratch Cards are digital scratch cards that give you the opportunity to win cash prizes from $2 all the way up to $ 10,000.
Token Scratch Cards enables you to with tokens instead of money.
Moreover, every day you will be able to claim an additional free ticket into a variety of raffles. The prizes for these range from international vacations to large cash prizes.
SpinToWin has a bright colorful interface that will give you Casino in Vegas vibes.
So If you are looking for this kind of app, this one is ultimately worth downloading.
Price: free
back to menu ↑
Betfred – Bet on Lotto
Betfred is an app that offers you a chance to win with only picking the correct 5 numbers for any lottery including those that play 6 and 7 numbers. It is a betting app that uses official international lottery numbers and not a place to purchase lottery tickets online.
If there's any form of online gambling that you want to try out, then it's on offer here. Their first and main offering is the sportsbook, but when you look beyond that you'll find a host of online casino games, including games from the huge provider, Playtech and more. There are also top table games, a great live casino, Bingo, Lotto, Virtual Sports and more.
Moreover, once registered at Betfred, you can receive a £5 free bet.
The most popular pages in the app are displayed at the top of the homepage for quick and easy access, whilst the footer comes complete with links to a full list of A-Z sports, Irish Lotto, Roulette, Blackjack, and Instant Win games.
Betfred also has a Quickbet feature, which can be activated within your 'Settings', that allows you to place single bets in an instant, thus eliminating the process of having to add them to your bet slip
Betfred is an app that seems to have struck the perfect balance between aesthetics and functionality and has created an app that has an extremely user-friendly interface and fast loading times.
Furthermore, with access to all of Betfred's exclusive promotions, In-Play betting and live streaming of thousands of events, it's hard to find a reason not to give it a go.
Price: free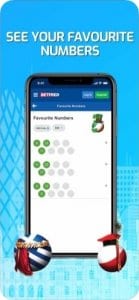 back to menu ↑
Random Number Generator Plus – Dice, Lotto, Coins
Random Number Generator Plus – Dice, Lotto, Coins is an app that helps you to generate random numbers.
There are many great features on this app, such as no permits or fees, no ads, several various modes, and convenient interface.
The app generates different values ​​in any means.
Also, the application has a function of the Lottery Simulator. It enables you to generate many lottery tickets with one touch of a key. Moreover, you can save the results so that you can send it to another device, social network or person.
Another great feature of this app is the ability to shake the phone to throw the dice which makes the process feel more realistic.
Random Number Generator Plus – Dice, Lotto, Coins contains the Dark Mode you can use if you don't want to use a light one. It will give the app a less vibrant color scheme and help save the battery power of the device.
And If you have any trouble during the use of the app you can write to the support service that will answer your message within a couple of days.
Price: free
back to menu ↑
Mega Millions & Powerball
Mega Millions & Powerball is an app that offers you help you to keep track of how lucky you are.
Mega Millions and Powerball are the two biggest lottery jackpot games in the US and the app gives you the latest jackpot information and drawing results with push notifications for the two lotto games.
The app allows you to upload all the lottery tickets that you have bought and then it keeps track of its working thus making sure when what updates are going to come and also how is the winner going to be announced. You can also track the results are announced it tells which numbers won and if you win then it also tells you that you've done so and have lucked out.
Mega Millions & Powerball accepts only specific lottery types that are only the services or tickets for lotteries like Powerball and Mega Millions of games only. So it is limited but still widely popular as it accepts the two major and the legal lottery systems.
The app offers pay tables that show exactly what the expected win amount will be depending on the number of matching numbers. It also helps you to calculate and estimate the prizes, winning then it also helps you to accumulate them so you can get the prizes for yourselves later on.
Mega Millions & Powerball is also well designed and cleverly developed to provide users with an almost perfect app experience.
The app is also fully responsive to full-view mode on modern smartphones and responds almost instantly to user input.
Another bonus is that the app is split evenly between its two namesake lotteries. Each lottery is selectable by a large tab at the top of the screen and changes all information displayed in the app dependant on what the lottery is selected.
To sum it up, Mega Millions & Powerball has great design and surprisingly impressive features, this definitely falls into the lottery apps worth downloading category.
Price: free
back to menu ↑
Clever Lotto & EuroJackpot
Clever Lotto is an easy and convenient way for PowerBall and MegaMillion lottery players to track their tickets for winning numbers, monitor trends in numbers, as well as keep track of your spending on lottery tickets.
Using this app you can make checking a stack of lottery tickets in a moment. Once you buy your tickets, simply add your tickets numbers, and within minutes of the drawing, Clever Lotto notifies you to your winnings or lack there-of.
Clever Lotto also features the winning calculator, which breaks down your winnings for any combination of possibilities. Not only will it tell your winnings and numbers for the current draw, but also for more than a years-worth in past drawings, which can be a great way to research your upcoming number selection (if you're into that sort of thing).
The app tracks both general statistics about both MegaMillion and PowerBall, as well as personal statistics for both games. Clever Lotto will track your bet history, spendings, winnings, and the number of tickets you've purchased, which is great for beginners.
To sum it up, this app can be a very valuable asset to frequent PowerBall and MegaMillions players.
Price: free
Check also: 15 Best sports betting apps for Android & iOS